Best Weed Growing Kit 2023: Indoor Marijuana Grow Kits Review
If you've never grown Marijuana before or are new to growing weed indoors, you're probably considering a grow kit.
Good idea.
I've been growing weed for over 20 years. Both under the hot California sun and indoors with the use of hydroponics. While I'm not a master grower, I've made enough mistakes in the past to know exactly what you need to get started when looking for a weed grow kit.
So if you're after the best marijuana grow kit within your budget, keep reading, and if you're in a rush, here are my top 3 favorites:
Top Pick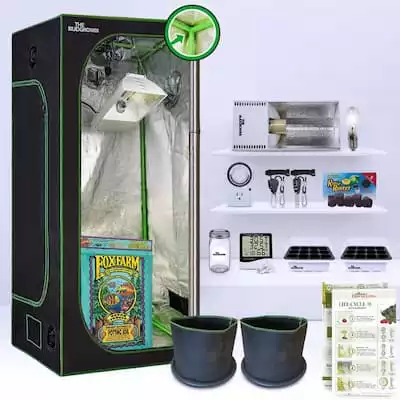 Runner Up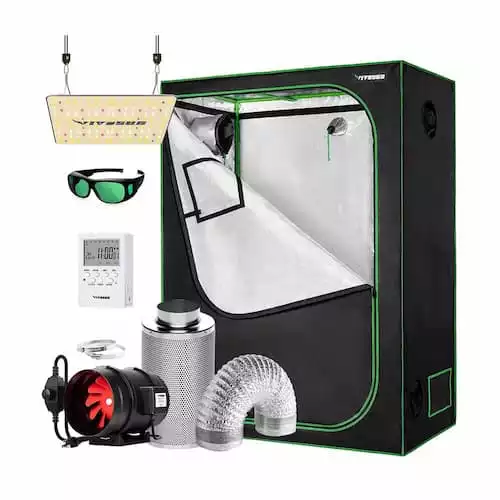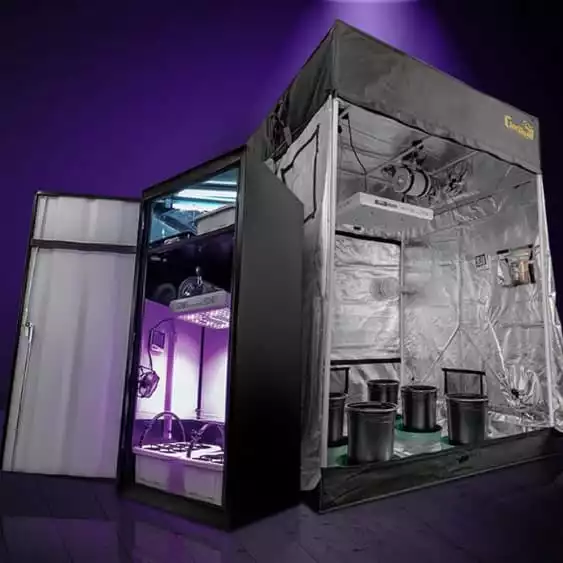 What Is a Cannabis Grow Kit?
It may seem like a simple procedure: "Push a seed into the ground, water it, and watch it grow."
But when it comes to growing your own high-quality weed at home, this rudimentary beginning can quickly become far more challenging in order for you to be successful in eventually reaching your lofty horticultural goals.
Growing quality marijuana outdoors can be highly dependent upon the regional environment and climatic conditions in the locale where it is being cultivated.
Like it or not, Cannabis tends to do far better when grown in a warm, dry, sunny climate than it does in areas with a reputation for colder and more in climate weather.
Hence, more and more people involved in growing their own weed are now choosing to move the operation indoors via a grow kit, where every aspect of the cultivation process, from temperature, humidity, and hydration, can be carefully controlled.
For decades, these types of indoor grow-outs were limited to those with the substantial financial resources necessary to undertake this once expensive and complicated option for Cannabis cultivation.
Today, however, fledgling marijuana growers virtually everywhere can take advantage of a new generation of simplified Cannabis growing kit that comes complete with just about everything you need to produce high-quality, mind-bending weed within a compact and highly controlled environment right within the walls of your own residence.
Our Cannabis grow kit buying guide offers a compilation of insightful, well-researched suggestions to help you find the very best Marijuana grow kit that will align with the space and production capacity that you require to meet your individual needs.
While current legal restrictions prohibit a grow kit from providing the actual seeds that will be necessary to grow your own marijuana, the best weed growing kit will generally include:
An indoor grow tent
Heavy-duty LED grow lights
A ventilation system
Electric timer
Inline fan and carbon
filter
Thermometer
Hygrometer
Hanger and drying racks
Grow kit pots
Best Marijuana Grow Kits 2023
1. Budgrower Indoor Grow Tent Kit
The Budgrower was one of the first, and some consider the best, indoor tent grow kits on the market. It opened the door for the availability of a turnkey, all-inclusive grow tent kit product that provided everything necessary for high-quality marijuana growing in a home environment.
Top Pick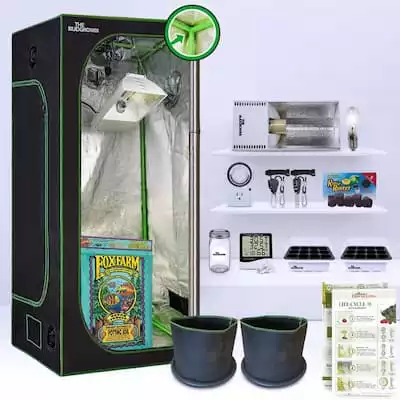 PROS (+)
Beginner-friendly
Extremely durable construction
Guaranteed satisfaction with a 3-year warranty
CONS (-)
Requires slightly more space than some tents
The purchase price point is near the higher end of the market
These premium grow tent kits come in seven different configurations, each of which is designed to mesh with the specific marijuana growing background of various levels of end-user, from beginners to advanced growers.
They all include 1200w LED lights and a high-quality reflective Mylar growing tent, along with all of the nutrient-packed soil that will be necessary to provide the marijuana plants inside your tent with the ideal growing environment from the initial seed germination to harvest.
The size and price of these tent kits vary, as does the quantity of finished product they yield. The Budgrower guide provided below will give you an idea of what each of them is designed to produce per grow cycle:
Starter Tent Kit – 10oz.
Signature Tent Kit – 14oz.
Signature LED Tent– 14oz.
Dual Tent Kit – 28oz.
Advanced Tent Kit – 42oz.
Open-Air Tent Kits – 6oz.
Hydroponic Tent Kit – 20oz.
The sturdy grow tents manufactured by Budgrower can support up to 300 pounds and are equipped with an inner sheet of highly reflective diamond mylar.
They are also fitted with a heavy-duty zipper system that is easy to open and close and, more importantly, prevents light leakage that can create issues during the growing cycle.
The 1200w grow light system provides full-spectrum lighting that is well suited to indoor marijuana cultivation. The tent kit also provides a carbon-filtered air system that is highly efficient in removing any dust or odor that might exist within your tent.
Additional components include an inline CFM exhaust fan, temperature and humidity monitors, clamps, and hangers, as well as 2 bags of premium growing soil.
Advanced Cannabis growers may select these weed growing kits as an option because of their compact convenience.
In the final analysis, however, Budgrower marijuana grow kits remain a virtually perfect product for amateur or inexperienced growers because they provide them with practically everything that they need to grow weed at home.
All this without the hassle of trying to locate and purchase all of the items in the grow kit independently on their own.
Related Read: Complete Indoor Hydroponic Grow System For Weed
2. Vivosun Weed Growing Kit
Whether you are looking for an indoor grow kit to start a new crop from scratch or finish off a batch of maturing plants, a Vivosun reflective Mylar grow tent kit can provide the perfect solution for creating your own private hydroponic grow room at home.
Runner Up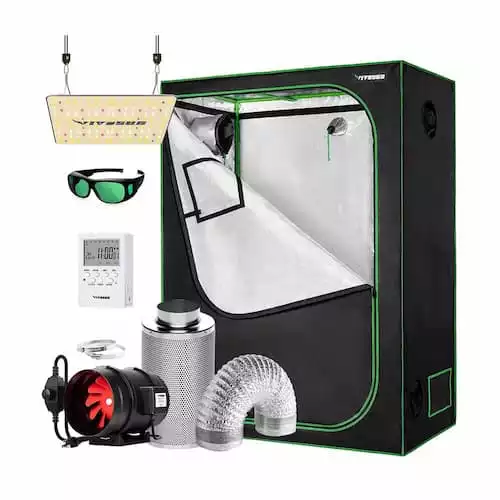 PROS (+)
Allows you an option of multiple growing environments
Windows on both sides of the tent allow you to keep an eye on your crop
All-inclusive 2-year warranty
CONS (-)
The zippers may be problematic to operate and may occasionally leak light
Some users have indicated that the initial tent set-up can be a bit difficult
Vivosun has years of experience in the indoor grow tent market, manufacturing and selling high-quality tents and growing accessories at reasonable prices.
A Vivosun tent is faithfully constructed from extremely thick material, durable 600D tear-proof canvas, and can grow 6 to 8 marijuana plants simultaneously.
Perfect for strain moderation.
Vivosun indoor tent systems come complete with virtually all that you need to cultivate high-quality weed plants. These include a premium quality, heavy-duty tent, an air filtration unit, a 300w LED grow light, thermometer, hygrometer, timer, and hangers, along with all of the necessary ducting.
Yup. A Vivosun indoor grow tent will offer you a product with a level of quality and features that are otherwise only found in brands that sell for prices several times more expensive.
Having a much lower price point is one of the primary reasons why their grow tents have been embraced by throngs of novice growers who possess an ardent passion for Cannabis growing but may not have the experience or money necessary to grow weed on a larger scale.
Although Vivosun is a relatively small company, this factor has helped to boost their product sales within the market to soar to a point where they have begun to cut the profits of much larger companies who manufacture and sell indoor grow tents.
There have even been reports that some of them have gone to the lengths of posting fake, negative online reviews of Vivosun grow tent kits to help revive their own sales numbers.
While the lower price of a Vivosun tent kit definitely gives you a bigger bang for your buck, one of the things that keep their customers coming back is their impeccable Customer Service.
In an era that has become renowned for impersonal, robotic customer contact, Vivosun's after-sale customer support and service go the extra mile to ensure that you are satisfied with your purchase.
There have even been instances where they have offered a customer a partial refund to help offset any given issue without the customer ever having requested one.
This type of response perfectly illustrates why Vivosun's after-purchase support remains a prime example of what good customer service truly should be.
In the end, the overall quality and exceptional value of Vivosun's heavy-duty indoor grow tent kits, combined with the company's superlative after-sale customer support, make them an optimum choice to successfully conduct indoor Cannabis cultivation and plant growth within a home environment.
3. Supercloset Weed Growing Kit
SuperCloset grow tent systems offer an inclusive selection of multi-chambered grow tents, indoor growing rooms, and grow boxes.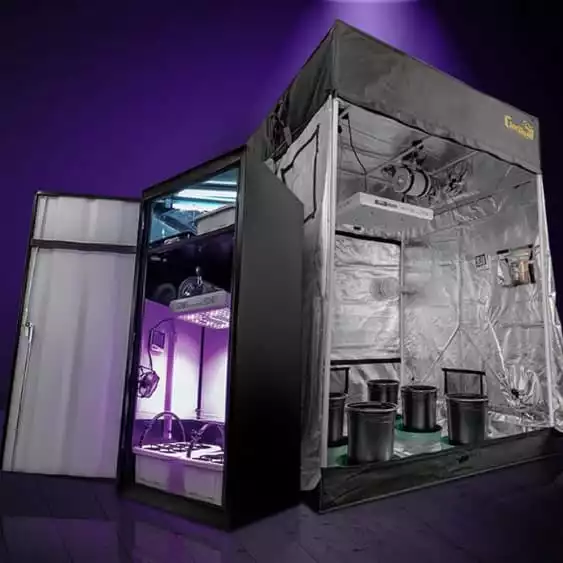 PROS (+)
Awarded 'Best Complete LED-Grow Kit System Setup of 2021' award
Innovative design and construction
Easily adjustable lighting
CONS (-)
Feeder tube occasionally does not reach all of the plants
Customer service can be hit or miss
After well over a decade of operation, they have become one of the foremost businesses in the hydroponics industry.
During that time, they have won several awards for their innovative and revolutionary designs in the field of automated indoor grow kit systems.
More and more fledgling growers are now starting to delve into the world of indoor grow tent kits and, for many newbies, the learning curve can become a bit overwhelming.
There are many questions that they may have about the operational aspects of growing Cannabis within a tent environment.
Nonetheless, before most of them actually get started, the most prominent issue in their mind is likely, "Which system on the market will best satisfy my production needs, yet still allow me to stay within my budget?"
However, buyers can rest assured because SuperCloset has several grow tent options available that are all designed to provide maximum value, no matter which of them you ultimately select.
Their indoor tent grow systems are designed to assist you in performing a variety of essential functions like measuring and maintaining the correct temperature and humidity within your tent, as well as regulating airflow, hydration, and proper air filtration.
SuperCloset indoor grow tent kits help make your indoor gardening experience simple.
Their complete grow kit systems include a premium-quality grow tent along with a plethora of other essential items:
Dual 600 WATT HPS Air-Cooled Lights for 87-plants
70 Gallon HydroSystem combines Ebb and Flow with DWC
6″ Inline Fan
6″ Carbon Filter
Hydroponic Nutrients
TDS meter
Rockwool cubes
Hydroton rocks
Grow DVD
Lifetime Tech Support provided with a 3-Year Warranty
In short, except for the selected seed stock and the water, SuperCloset indoor grow tent kits provide you with everything you need to grow high yields of quality weed.
And, with well over a decade of experience in the indoor hydroponics industry, their products deserve a solid 'thumbs up' as one of the top alternatives on the market when it comes to indoor cannabis cultivation.
4. A Pot for Pot Grow Kit
When it comes to finding the right weed growing kit to assist you in cultivating quality marijuana, not everyone has the desire to get involved in operating a grow kit based on a hydroponics system.
PROS (+)
Much more economical than indoor grow tent kits
A well-designed system that is easy to work with
Incredibly solid and reliable Customer Support from an expert staff
CONS (-)
Marijuana grown in pots outdoors will generally produce less flower
Requires the sun for heat
This approach to growing weed requires an indoor grow tent and a bevy of other specialized accessories and is not something that everyone has the money and time necessary to be successful.
And, even if all of these items come bundled into an all-inclusive grow tent kit, some people still prefer growing marijuana the old-fashioned way, which involves nothing more than a seed, water, and the sun. Oh, and soil as the growth medium, of course!
While this time-tested method may not work well for growers living in regions that are usually cold and damp, traditional purists who live in sunny, dry climates have the luxury of selecting an outdoor environment for growing their weed.
A Pot For Pot is perfect for growers who prefer to cultivate their marijuana crop outdoors but still need assistance and guidance in putting together everything they need to be successful.
The company offers a perfect, turnkey option for growing generous crops of high-quality weed without needing a grow tent, lights, or even a 'green thumb'.
Whether you happen to be a seasoned veteran or a first-time grower, A Pot for Pot has put together everything that you need to grow a robust crop of stony weed right at home.
The company offers four marijuana grow kits in different sizes; however, their 5-gallon kit is their hands-down bestseller. It includes everything you will need to grow up to a half-pound of premium marijuana flower in less than 3 months.
This complete grow kit contains everything that will be necessary for you to achieve ultimate success in growing your crop, including:
Grow Guide
$40 Seed Coupon
5-Gallon Fabric Pot
Run-off Saucer
Seed Germination Kit
Superb Soil (x2)
Beneficial Bacteria
Diatomaceous Earth
Aeration Top Soil Mix
Coco Bricks (x2)
Rooting Booster
Natural Leaf Shine
Watering Can / Spray Bottle
Trimming Scissors
Smartphone Camera Lens
As noted above, A Pot for Pot 5-gallon grow kit even goes to the length of including a Smartphone camera lens, which allows you to closely monitor and examine your maturing buds to determine the optimal time right down to the exact day.
A Pot for Pot is made up of a team of passionate marijuana farmers and industry veterans who have been growing great weed for decades.
As such, they are on a mission to make growing cannabis plants such as Cannabis easy and accessible to all. They stand ready and highly responsive to assist you through the entire growing process step by step if necessary.
At your request, they will answer any questions that you have whenever you have them, help ensure that your setup is perfectly suited for growing healthy plants, and even guide you through each stage of the growing process.
When you buy any of the weed growing kits from A Pot for Pot, you also automatically gain 24/7 access to their staff of professional growers without any additional cost to you.
5. Mars-Hydro Complete Weed Growing Kit
The indoor grow tent kit has become extremely popular over the past few years because it provides marijuana growers with far more control over their crop. Still, just as importantly, it helps to remove the operation from the conspicuous view of prying eyes.
PROS (+)
Affordable
Versatile design with many outlets
Viewing window
Robust zippers
CONS (-)
Cross-bars are hollow
Not a great return policy
There are many levels of product on the market these days, and when selecting a grow tent kit to purchase, it's important to pick one that corresponds to your budget and practical needs in one.
The fact of the matter is that, when it comes to indoor grow kits, you don't necessarily need to buy the most elaborate grow tent kit to cultivate a stunning batch of indoor weed.
The Mars-Hydro Complete splits the difference between an expensive high-end indoor grow tent kit and one that is simply functional.
It offers you an excellent value price-wise but still provides you with the full spectrum of necessities required to produce a healthy crop of weed indoors.
They offer several models to meet a grower's individual needs, from the small 2'x2′tent, to a small, bedroom-sized tent that measures 8'x8 for large indoor grows. Irrespective of the size, they all come complete with virtually all of the necessities, which include:
99% diamond reflective Mylar interior that provides perfect reflective lighting
The grow tent kit contains:
A built-in pouch for your growing tools
Rear vent holes for power cords
A top filter vent for filtering away the strong smell of your plants
Mesh window for easy viewing
Dual intake and exhaust vents
Metal white poles and hanging bars
Also included is a Mars Hydro TS600w grow light, a 4″ inline duct fan with speed controller, a 4″ carbon filter, 33ft length flex ducting, humidity and thermometer meters, a timer, 4 individual 5-gallon grow bags, duct clamps, and adjustable rope hangers.
The zippers are by far the most often used item on the grow tent, and they feel solid. There are two massive zipper handles that can open from the bottom or the top, whichever you prefer.
The durable tent provided is constructed out of high-quality 1680d canvas, as opposed to the 601d canvas used in the manufacture of competing brands.
It's equipped with heavy-duty, double-stitched zippers, which are highly effective in locking out unwanted light that could create issues during the growing process.
One thing is certain. If you are in search of a reliable, mid-line indoor grow tent kit that delivers everything that you need to grow quality marijuana indoors but does not require you to dig too deeply into your pocket, The Mars-Hydro may just be exactly what you are looking for.
6. Spider Farmer Weed Indoor Grow Kit
Spider Farmer is a company that has been in business since 2009 and has been in the grow tent market since 2014 when they introduced their first weed growing kit.
PROS (+)
Strong tent frame
The ventilation system is excellent for humidity control
Cost and energy-efficient
CONS (-)
Noisy fan
Lights may get hot
They are completely self-sustaining, with their own in-house research, design, testing, development, and production overseen by a team of industry specialists, each of which is highly qualified in their field.
Hence, their expertise contributes significantly to the quality of weed growing kit that they produce, which consistently garners high marks in regard to customer satisfaction.
The fact that a Spider Farmer grow tent kit is a one-stop solution for all of your marijuana growing needs and also offers a great value for the money makes it an ideal choice for amateurs. Especially those that are relatively new to the concept of using a grow tent to cultivate weed indoors.
Every indoor grow tent that they make is constructed from thick, 168d grade oxford cloth material and fitted with a reliable, double-stitched zipper that not only adds additional durability but also prevents any light leakage that might compromise your crop.
The interior lining comprises 100% reflective Mylar, which provides all of the reflectivity that your plants will ever need.
The lighting is provided by a top-notch Samsung LM301 diode grow light, which offers a full-spectrum light that will perfectly accommodate your plants through every stage of their growth.
The light is protected by a waterproof coating that helps extend the life of your LED grow light(s), and it comes complete with a dimmer switch to adjust the light's intensity during the growth cycle.
A Spider Farmer weed growing kit also contains a quiet yet powerful ventilation system equipped with a 4" inline fan, activated charcoal carbon filter, and flex aluminum ducting.
This configuration is easy to install yet ensures proper airflow and circulation while helping to eliminate all unwanted odors from escaping your tent.
Overall, when you compare the cost and effort involved in putting all of these separate components together yourself, simply buying a Spider Farmer grow tent kit will save you a tremendous amount of time and money.
If you are a first-time grower, a Spider Farmer indoor grow tent kit might very well be an ideal choice for you to consider before deciding on a final purchase.
7. Bloomgrow Indoor Grow Kit
If you are relatively new to the world of Cannabis cultivation and interested in using hydroponics to start growing high-quality indoor marijuana, weed growing kits like the BloomGrow Complete may be exactly what you need to get your feet wet.
PROS (+)
Ideal for the amateur growers
Economical product pricing
Excellent carbon filters for the ventilation
CONS (-)
No observation windows to monitor plants from outside the tent
Some marijuana grower complaints indicating the 300w lighting was insufficient for their needs
The all-in-one grow tent kits by BloomGrow are considered by many to be some of the best values on the market, especially if you happen to be a newbie.
They contain virtually everything that you will need to grow a healthy crop of tasty, potent weed.
Depending upon the size of the grow-out operation you are planning to set up, you can select a basic BloomGrow Complete tent system in any one of four different size configurations, 16"x16"x48", 20"x20"x48, 24"x24"x48", or 48"x48"x80".
No matter which size tent you ultimately choose for your grow kit, you can be assured that it is constructed of durable 600d grade light-proof oxford cloth on the outside.
The inner lining is constructed from 100% waterproof, highly reflective Mylar, and the tent itself is fitted with a high-quality zipper system that is extremely efficient in blocking even the smallest amount of light leakage from compromising the grow cycle of your plants.
The tent is teamed up with a full-spectrum, 300w plant-friendly grow light that helps to provide an excellent growing environment.
When it comes to plant growth, the lighting provided offers the full variance of illumination needed for each cycle. from germination and seedling development to flowering and the ultimate harvest.
Also included is a 4" inline fan and a carbon filter that provides a layer of activated charcoal that is 1.5" thick. These are essential tools designed to maintain pure and constant airflow while simultaneously neutralizing unwanted herbal aromas from escaping the tent.
The final piece of computerized hardware in the system is an extremely reliable digital hygrometer.
This constantly provides you with accurate measurements of both the temperature and humidity present within your plants' growing environment.
In the final evaluation, the standard LED grow tent kits in the basic BloomGrow Complete line is extremely well-suited to novice growers that are just beginning to develop their growing skills and are not necessarily focused upon the overall yield of their harvest.
The fact of the matter is, the 300w LED grow light provided in this basic system is nowhere as efficient as the 1200w full-spectrum professional LED grow light strips that are included in BloomGrow's Professional grow tent kits, which sell for over twice the price.
Cannabis Grow Kit Buying Guide
Why Buy A Marijuana Grow Kit?
As previously mentioned, growing a Cannabis plant begins as an extremely basic procedure; a few seeds, a little water, and enough sun.
But as soon as a seed germinates and sprouts out of the soil, the learning curve begins to get steeper rather quickly.
The proper nurturing and development of a seedling into a healthy, mature, bud-bearing marijuana plant can be one of the most taxing challenges that you have ever taken on if you happen to be new and inexperienced.
However, a weed growing kit offers you a complete all-in-one solution to help you succeed because, no matter which system that you ultimately select, the entire growing process has already been thought out for you by a team of experts.
Additionally, you will have the luxury of acquiring virtually everything necessary to grow weed successfully delivered right to your doorstep in a single, discreet package.
One of the nice things about buying a complete grow kit is that you can start small with a more basic, inexpensive weed growing system, then after you have successfully completed several growing cycles and become more acclimated to the process, graduate up to a more sophisticated weed growing kit that may cost more, but will dramatically increase your yield of sticky, stony buds.
Nonetheless, one of the best reasons for initially purchasing a pre-packaged grow kit is the fact that it makes enjoying the many benefits of marijuana far more economical when compared to walking into a dispensary and shelling out a couple of hundred dollars for a single ounce of premium bud. Especially if you're an MMJ patient.
Buying a grow kit also saves you time and money by avoiding all of the efforts it would take to round up everything you need to grow weed while paying a high market price for having to purchase each one of them individually.
Related Reads: Leafwell Review, Veriheal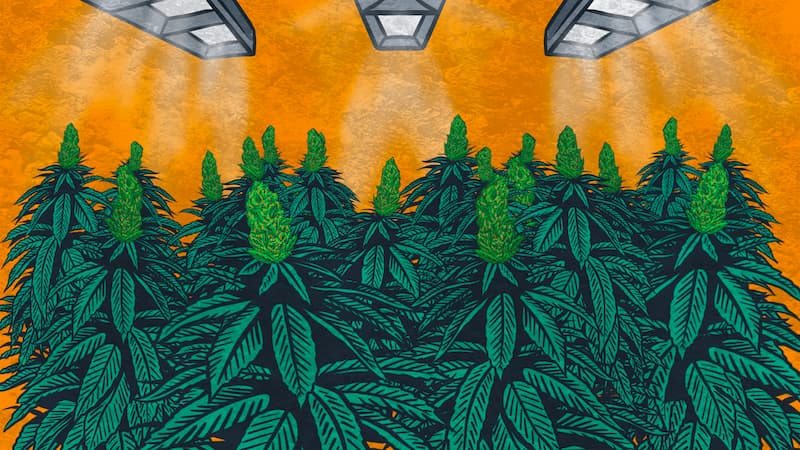 Marijuana Grow Kit Cons
Despite all of the benefits of investing in a complete weed growing, there are a few drawbacks like almost anything.
First off, these systems are often avoided by highly experienced growers who have already perfected and mastered the skills necessary to cultivate premium Cannabis.
These individuals are prone to want to have complete control of even the most minute aspect of their growing process.
Another consideration is the initial cash outlay. Even though buying everything you need in a pre-packed kit is far more economical, it can still present a problem to those on a strict budget.
In that case, many fledgling cultivators will generally opt for the traditional method of starting a simple outdoor growing project.
Another reason that they might choose to start their own small outdoor crop is the high price of electricity that must be shouldered by those who grow indoors and also by the fact that a lengthy power outage at the wrong time can ruin an entire growing cycle.
Marijuana Grow Kit: Factors to Consider
Indoor Tent Size
When it comes to selecting the right tent for the weed growing kit that you plan to purchase, size matters.
While all of the items you need to guide you through the growing process come in a relatively standardized package, it will be up to you to determine the exact size of tent that will mesh with the space that you have allocated and the amount of final product that you want to produce.
As an example, a grow tent measuring 4'x4' should be enough to grow 4 to 6 plants with sufficient space between them. The space/production ratio extrapolates up from there.
It is also vital to make sure that you select a tent with enough headroom to allow for the hanging of the grow lights to be adjusted high enough so that they won't burn the tops of your plants. You will also need enough height to accommodate your fans, air filter, and ducting.
Tent Build Quality
One of the most important things to consider when deciding upon the purchase of any given grow tent is the quality of its fabrication.
A cheap price is an indication that a compromise has been made somewhere, and that usually takes place when an inexpensive, substandard grade of material is used in its construction.
This is why it is vital to select a tent that has been fabricated from thick, top-notch oxford cloth or canvas, which is lined with reflective Mylar for proper light refraction.
The construction quality of the frame that holds your tent up is also extremely important.
When available, crossbars should always be solid rather than hollow to offer the necessary support strength.
Soil Or Hydroponics?
While marijuana can be successfully cultivated either outdoors under the natural light of the sun, or indoors under a battery of growing lights, each method has its own set of benefits and its limitations.
Growing outdoors in a soil environment allows you to incorporate a host of organic cultivation practices into your cultivation process.
While this can also be accomplished to some degree when growing hydroponically, it is still a closed system that does not allow the natural nutritional variance to give the plants exactly what they need as does a quality, well-balanced soil base.
Growing weed in a soil garden is also infinitely easier and less complicated than it is to set up one with a hydroponic system, which involves a somewhat complicated setup involving a combination of tubes, tubs, lights, fans, and additional hardware.
One of the downsides of growing in soil outdoors is, that unless you live in a predominantly sunny and dry climate, you are highly dependent upon the strength and dependability of the sun.
Therefore, those growing in colder, wetter regions must watch the times that they choose to plant their crops extremely carefully in order to make sure that they come to full fruition before the onset of winter.
Another issue for those who grow outdoors in a soil garden is the proliferation of various bugs, insects, and other pests that are not generally an issue for those who work within a hydroponic setting.
On the other hand, there is no live soil involved in hydroponic cultivation, so indoor growers rarely have to contend with as many pests and diseases as outdoor growers do.
This is because hydroponic growing only involves using a small amount of a medium such as rock wool at the plant's base, with its roots left to bask in the nutrient-enhanced water below.
Another advantage of cultivating hydroponic marijuana plants is that they grow much faster than if those very same plants were grown in soil, and the yield is quite often much higher.
Some indoor hydroponic cultivators have reported harvesting between 14 to 20 ounces of flower per plant after only a 6-week growing cycle.
Nevertheless, hydroponically grown Cannabis involves a lot of time and costly equipment to do it right. Hydroponically grown cannabis is notorious for being far more temperamental than plants grown outdoors.
One significant error in the process could potentially cost you an entire crop. Soil, however, is far more forgiving.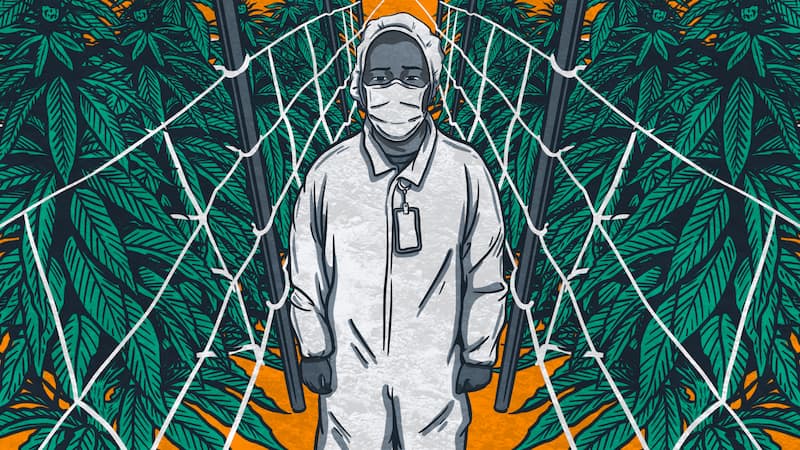 Lighting
The final link in your chain of success is having the proper light configuration to cover the number of plants that you are growing.
Although the makers of most indoor grow tent systems go out of their way to correctly match the grow light with the specific tent that is being sold in the kit they are selling.
Yet, some manufacturers who specifically market their products toward inexperienced beginners who may be focused upon learning to grow weed more than they are concerned about their ultimate yield may sell their basic grow kits with lower-powered 300w LEDs.
That is why it is important to make sure that the grow light provided in the kit you finally purchase to be rated at a minimum of 1000w to derived maximum benefit from your indoor grow room.
In the end, you can actually select various lighting options for growing marijuana indoors; fluorescent, HID, or LED.
It simply has to be a full-spectrum light that will effectively steward your plants through their vegetative and flowering stages and ultimately provide you with a potent and bountiful harvest.
The Final Verdict: Best Indoor Marijuana Grow Kit
All in all, if you're after the best Marijuana grow kit with all the things you need in a single package, I'd suggest you go for the Budgrower Indoor grow kit.
Top Pick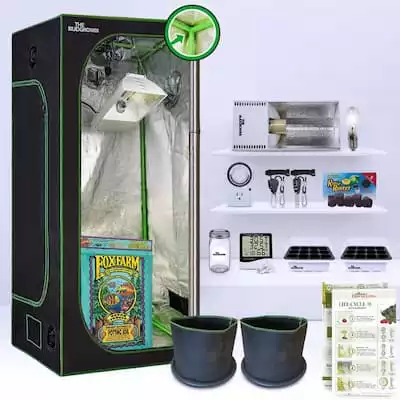 Although, if you need flexibility with your grow tent, I'd recommend the Vivosun weed grow kit. For the price and flexibility combined, this is an excellent alternative option.
Runner Up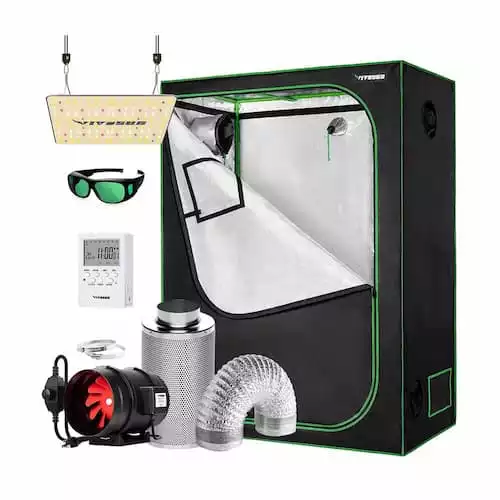 Regardless of what you decide, just remember that it's probably going to take a few tries to perfect using your grow kit. So keep motivated and enjoy those buds!