7 Best Live Resin Carts 2023 Review: Budtender Tested
As an ex-dispensary manager I know that when it comes to terpenes and flavor live resin can't be beat.
It's now available in cartridges and vape pens, but with so much competition in the market, how can you be sure you're puffing on the best live resin carts out there?
After personally taste testing over a dozen different brands, we have shortlisted the best live resin cartridges on the market.
Keep reading to discover the top live resin carts of 2023!
Description:

D8/THCP/THCO/HHC Cart + Live Terps
Free Shipping
Perfect Flavor & Potency

Description:

D8 + THCP + D10 + Live Terps
Excellent Pricing

Description:

Artisan Live Vapes
Multiple Strains Available
Milder Potency

Description:

Cannabinoid Blend
Huge Capacity
Super Potent

Description:

2G HHC + Live Terps
Indica Gods Gift
Rechargeable Disposable

Description:

Huge 2G capacity
Cheapest HHC-P Disposable
Live Resin Terpenes

Description:

High purity
Versatile
Fast Shipping
What Are Live Resin Carts?
For starters, let's begin with live resin itself. Live resin is a type of cannabis concentrate, like wax or shatter.
Live concentrates are made from the fresh flower of cannabis plants. The buds are frozen immediately after harvest to preserve precious trichomes and ensure maximum terpenes.
Trichomes contain terpenes. The more trichomes retained, the better the flavor of live extracts! Freezing fresh flower means that the plant's original flavor, terpene content and aromas are well preserved.
The frozen buds then undergo an extraction process before they are made into a live extract.
Live resin carts usually contain a full spectrum cannabis extract. The extract is then put in a disposable vape or regular cartridge. This type of live resin cart is usually found in a dispensary.
Live resin vapes can also be formulated with cannabinoid distillate and live resin terpenes. For reference, "distillates" undergo a distillation process in which specific cannabinoids, such as THC or CBD, are isolated.
The plant's terpenes are extracted from frozen cannabis or hemp and then combined with a distillate. This combo could be Delta 8 THC mixed with live resin terps or a blend of cannabinoids.
We think both versions taste amazing!
Best Live Resin Carts Carts: Our Research Criteria
In House Product Testing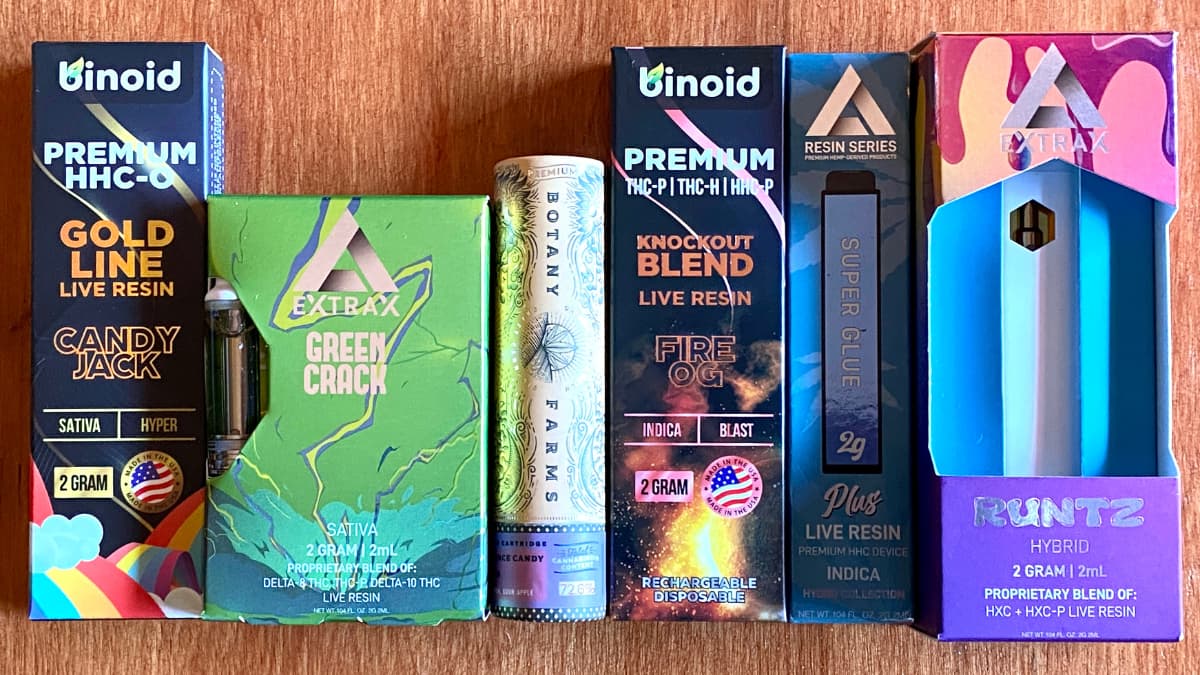 Let's face it, you can't come to a conclusion about a product without trying it yourself.
So for this review we tested over a dozen live resin carts. And we spent hours getting seriously stoned to find the best live resin cartridges for sale.
Here we only showcase our favorites. Rest assured only the top notch brands made it.
Live Resin Vapes Third Party Testing
It's essential to check Certificates of Analysis (COAs) before you buy any live resins. These third party lab reports tell us the potency and purity of live resin carts before you even try them..
Lab tests are the only surefire way to enjoy a safe smoke, and it's a vital criterion for judging the best live resin cartridges.
So we examine:
What kind of COAs are available?
Are the lab results full panel or cannabinoids only?
How recently were they performed?
Before a product earns Its spot on our list, we review the COAs. Every single time. It's a must.
Transparency is somewhat rare in the industry, so we highlight which brands offer full panel testing.
Companies that stand by their products always send them to third party labs. If you can't find a COA for a hemp product you're interested in, avoid it, and find one with third party lab results!
Reputation
True to any popular product, it's not easy to find the best amidst an abundance of choices. Nowadays it seems like every brand is trying to be part of the live resin game..
To navigate the hype, we carefully scrutinize the brand's reputation in the industry. Appealing marketing is pleasing, but what we really care about is if the company is reputable.
For each cartridge, we ask the following questions:
Are they made by an established brand in the vape space?
Is this a trusted brand in the industry?
Brands praised for offering fire products typically check both boxes.
What Are Current Customers Saying?
We have our opinion through testing but what are other people saying? Do they agree with us? And if they don't, why not?
To measure consumer opinion we meticulously search the web. We look through genuine user reviews and discussion boards to see how the public feels about a brand.
Then we compare our findings to our own experience.
Brands with positive reviews tend to offer superior products.
The 7 Best Live Resin Carts 2023
1. Live Resin Cart | Binoid
Based in Los Angeles, Binoid is a well established brand that crafts premium products that range from common to uber rare cannabinoids.
Top Pick: Best Live Resin Cartridge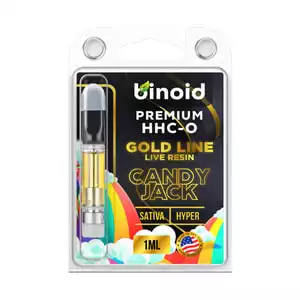 PROS (+)
Flavor-packed live resin terpene profiles
Intense high
Fast, free shipping for all orders
CONS (-)
Pricey
Vague satisfaction guarantee policy
Binoid claims to sell some of the first Hemp derived live resin cartridges to ever hit the market. These carts are formulated with distillate and live cannabis derived terpenes. Exceptionally flavorful, the full spectrum terpenes are also strain-specific.
For a quick refresher, full spectrum refers to hemp extracts that contain the maximum amount of terpenes, phytochemicals and cannabinoids (including less than 0.3% THC).
Not only does this retain an identical flavor profile to the cannabis plant, but lends to what's known as the entourage effect, a theory that suggests different cannabis compounds work better together than they do on their own.
Binoid's Gold Line live resin carts come in four strains: Candy Jack, Pura Vida, Blueberry Kush, and Cereal Milk, offering options for sativa, indica and hybrid lovers alike.
Each of these strains contains a different primary cannabinoid, with the choices including HHC-O, THCP, D8-THC and THC-O.
While we tested the disposable version, the cart is exactly the same minus the battery.
Uniquely, Binoid offers experience specific cartridges. I tested the "hyper" Candy Jack and it was spectacular.
This cart was one of the best tasting cannabis products we've ever tried, with hemp-derived live terps that seriously shined. Candy Jack's flavor contained a citrusy sweet taste with hints of pine, with a complex terpene profile just like the flower.
The effects of this vape had me next level stoned. I puffed on the cart before attacking my day and experienced a new level of focus. Equally creative and euphoric, the high was exceptional. The uplifting effects lasted for hours.
From the taste to the high, the brand's cannabis concentrates are of the highest quality.
That said, Binoid's live resin carts are one of the most expensive on our list. The intense high and even more intense flavors makes up for the price. At $39.99 per 1 gram cart, it costs approx $0.04 per mg. Once you factor in free shipping, these vapes are actually a really good deal!
2. Live Resin Cartridge | Delta Extrax
Delta Extrax wins runner-up pick for our pick of the best live resin cartridges.
Runner Up: Best Live Resin Vape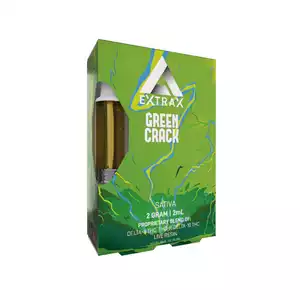 PROS (+)
Affordably priced
Full panel lab tested
First time order discount
CONS (-)
Strict no refund or return policy
Doesn't ship to all states
Savage Enterprise's flagship brand, Delta Extrax is newer to the cannabis scene. But it's backed by a major company with a great reputation.
Launched in 2013, Savage Enterprise is a leader in the vaping industry. Delta Extrax definitely follows suit.
The brand specializes in hemp products made from unique cannabinoids like HHC and THCO.
What separates this brand from the rest of the pack is their use of full panel COAs. This means every live resin vape is tested for potency and safety. This is a major plus in our book.
Delta Extrax' live resin carts are made from a proprietary blend of Delta 8 THC, Delta 10 THC, THC-P, and live resin. Each vape contains 2 grams of highly potent premium extract. That's right, these carts are HUGE!
The brand offers one of the largest live resin cart lines that exists. Featuring over 20 vapes for sale, you'll be able to find a live resin cart with a mix of the rarest cannabinoids. Think other cannabinoids like Delta 11, THC-H, THC-JD, and HHC-P to name a few.
Encased in brightly colored paper boxes, Delta Extrax packaging is minimalist. The cart itself is snuggly held by a paper insert but unprotected from the elements.
I sampled the Green Crack. With each puff you can taste tangy tropical mango flavors mixed with earthy, herby undertones. Delta Extrax offers some of the best tasting oil cartridges around, and this product is no exception.
The full sativa strain had me floating in the cannabis clouds. After a few hits, I was elevated to new heights. The high was social, energetic and uplifting. It was like taking a double shot of super strong espresso.
This cart is ideal for boosting your mood and energy. It's the perfect start to any day.
For live resin cartridges, Delta Extrax has one of the best deals we've ever seen. A 2 gram cart costs $25.99. This comes out to $0.0129 per mg. We told you the price is incredible.
Delta Extrax is a brand that doesn't cut corners when it comes to quality. Factor in full panel lab testing and the value is simply unbeatable.
3. D8 Live Resin Cartridge | Botany Farms
Botany Farms is a Minnesota-based boutique cannabis company specializing in handcrafted products made in small batches. This equates to some seriously high quality goods.
Best Lower Potency Pick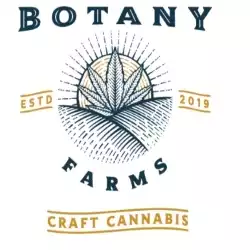 PROS (+)
Made from organic hemp
Tasty terpene profile
Smooth hitting carts
CONS (-)
Expensive
Must spend $75 for free shipping
Using organically-grown hemp sourced from U.S. micro-farmers, the flowers for all products are hand-picked, expertly cured and lab tested. The brand boasts a great product selection, with products curated with some of the highest quality hemp you can find.
Botany Farms' line of live resin carts are formulated with full spectrum live resin extract and Delta 8 THC.
Being a small boutique retailer, Botany Farms has a limited selection of live resin vape cartridges. You have three options that are all made with a special blend of live resin and Delta 8 THC:
Placed in a fancy paper tube and small burlap sack, Botany Farms makes some of the nicest packaging in the biz. It's also completely reusable. The cart is well contained so damage is not a concern.
I tried the Sour Space Candy cart, which was shockingly tasty. Flavors of citrusy diesel really reflect the taste of the actual strain.
The effects were not as potent compared to other products on our list. But don't let that deter you. The high was perfect for daytime use. It's strong enough to get you an undercover buzz, yet mild enough to still take care of business.
I honestly think this cart is perfect for people with both low and high tolerances. The stoniness is enjoyable without being completely overwhelming.
Botany Farms vape cartridges cost $45.00 per gram. High quality products definitely don't come cheap. And this is the most expensive vape on our list. But for an organic live resin cart, $0.045 per mg isn't the worst deal we've seen.
4. Knockout Blend Live Resin Disposable Vape | Binoid
You're not seeing double. Binoid takes up another spot in our review of best live resin cartridges with their Knockout Blend.
Most Potent Pick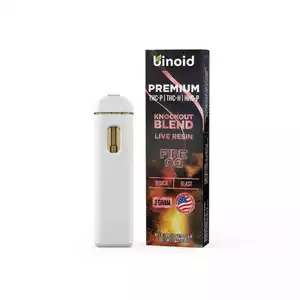 PROS (+)
Out of this world high
Tasty cannabis oil (made with live terps)
Competitively priced
CONS (-)
Limited selection
Refund policy for unopened products only
Binoid's live resin vapes are part of their Knockout Blend line of products. These are the first cannabinoid blend live resin vape carts on the market, and this disposable pen offers a relaxing high and a fantastic flavor profile.
The cart contains a mixture of premium live resin THCP, THCH, and HHCO. The addition of live terps gives this vape a pleasant aroma. Binoid's extraction method expertly preserves the whole plant flavor.
The Knockout Blend vapes are packaged in a shiny paper box, adorned with metallic writing. The packaging feels lavish and so does the high.
Binoid has spared no expense when it comes to this device. The pen hits perfectly, a true testament to its high quality.
Binoid's Live Resin Disposable Vape is only available in 2 strains: Fire OG and Ice Breaker. This means strictly sativa lovers are unfortunately left out.
I sampled the Fire OG. Within a few minutes, I was next level stoned, transported into another dimension. The blend of rare cannabinoids caused a seriously strong body high.
The effects were euphoric and relaxing all at once. Take too many hits, and you'll understand why Fire OG is famous for its couch lock effects..
In terms of flavor, this Fire OG cart matched the strain better than any other concentrates on our list. Aromas of lemony citrus with hints of spice were present in every hit. Overall, the terpenes tasted natural and strain specific.
These pens are one of Binoid's most affordable products. At $43.99 for a 2 gram device, this equates to $0.021 per mg.
The aromatic live terpenes and high quality hardware makes this vape pen one of my all time favorites.
5. Live Resin Disposable HHCp | Delta Extrax
Delta Extrax again for another win with their liquid live resin disposable vape pen.
HHC Live Disposable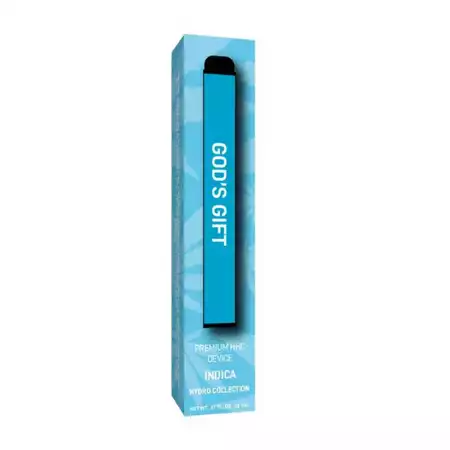 PROS (+)
Excellent value
Relaxing buzz
Smooth hitting
CONS (-)
No returns or refunds
Slight artificial aromas
Made from a blend of HHC distillate and natural terpenes, this live resin pen offers the perfect high.
Dubbed the Resin Series, Delta Extrax HHCp live resin vapes are available in a few different strains. You can choose between Super Glue, White Widow, Cannatonic, SFV OG, Dog Walker and Strawberry Shortcake, offering an option for everyone.
Complete with a rechargeable vape battery, this pen seems to last forever. And at 2 grams per disposable pen, they're an even bigger bang for your buck.
Nestled in a paper box with foil filigree, Delta Extrax is minimal but attractive. On the box you'll find all the info you need to know, including: type, ingredients, instructions, and strain. In terms of hardware, the tiny black pen is sturdy but discreet.
I personally tested Delta Extrax Super Glue disposable pen. The terpene profile was impressive, with notes of lemon-lime and danky pine that showered the taste buds. I found these fresh frozen vape cartridges to be exceptionally fragrant.
I also found them to be incredibly smooth. I didn't cough at all, even after taking several huge hits. Dabbers will absolutely delight in this disposable vape.
The effects were equally as amazing as the smoothness and taste. As any true sativa hybrid should,, the Super Glue live resin pen induced feelings of euphoric bliss. My mind and body were almost instantly at ease.
This vape is powerful, so new users beware. With HHC levels of 90% this pen will get you lit, with a potency that will satisfy even the most experienced concentrate enthusiasts.
Priced at $22.49 for a 2 gram cart, this is the cheapest option on our list. It comes up to $0.0112 per mg. In the world of vape oil pens, this is a killer bargain.
6. Runtz HHCp Disposable Vape Pen | Delta Extrax
We told you Delta Extrax cartridges are some of the best you can find. That's why they secured yet another spot on our list.
Live HHCP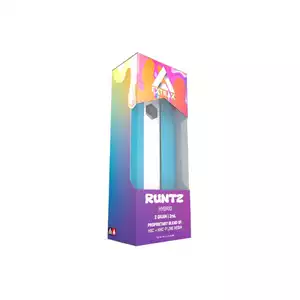 PROS (+)
Delicious sweet taste
Highly reputable
Full panel tested
CONS (-)
Lower potency (76% total cannabinoids)
Must spend $50 for free shipping
Formulated with a premium live extract plus a blend of HHC and HHCp, their Runtz 2 gram disposable is straight fire. Other than Runtz, you have a choice of SFV OG, Sunset Sherbet, Super Glue and Cannatonic.
The brand makes attractive packaging for all of their vape cartridges. The slick white pen is housed in rainbow bright packaging that matches the loud terp profile.
While beautifully packaged in a paper box, the product itself isn't offered much protection.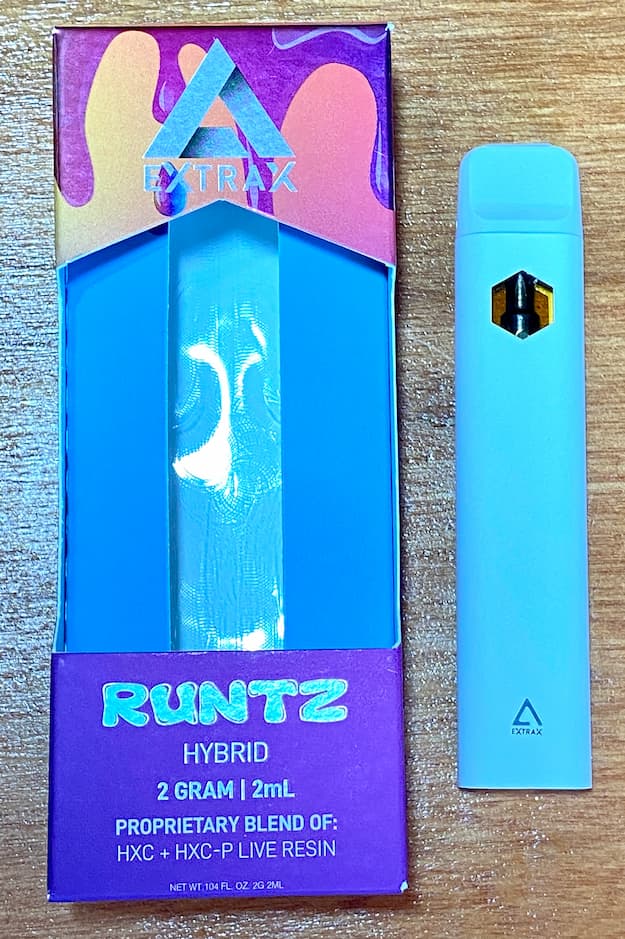 I sampled Delta Extrax Runtz HHCp Disposable Vape Pen.
When it comes to taste, the flavors were vibrant, with aromas of citrus, berry and grape that invaded the senses. Each hit tasted like an assortment of perfectly ripe fruits, and hints of herby aromas were very similar to true Runtz genetics.
Runtz is an indica hybrid strain, and a few puffs of this vape left me in a state of total relaxation. My stress was reduced and replaced with feelings of euphoric relaxation.
The effects make this particular pen ideal for nighttime. You can kick back, get your puff on, and chill before achieving a full night's sleep.
Delta Extrax Runtz disposable is priced at $33.99. This equates to $0.0169 per mg. Overall, the price is reasonable for carts of this quality.
7. Delta 8 Live Resin | Vivimu
Last but not least, Vivimu is a newer online hemp retailer that specializes in high quality goods at budget prices.
Best Value Live Concentrate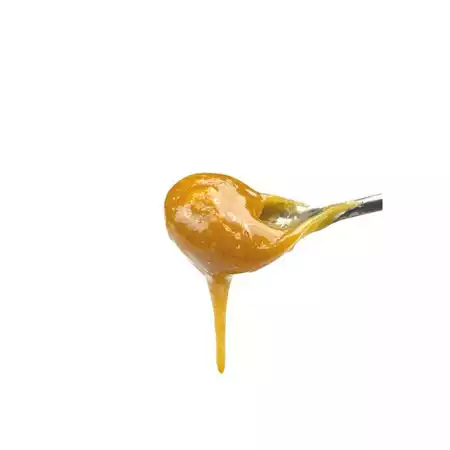 PROS (+)
Super low prices
High potency (97%)
Relaxing buzz
CONS (-)
Must spend $100 for free shipping
Not available in prefilled cartridges
Vivimu boasts a huge menu with products made from over 20 of the rarest cannabinoids. Although they specialize in concentrates, they also sell gummies, pre rolls, topicals, and softgels.
The brand claims that all products are full panel lab tested, but we can't attest to this. The COAs offered online only show potency results.
At the time of this review, Vivimu only sells this Delta 8 product by the gram. Perfect for dabbing, the concentrate is placed in a glass jar instead of a glass cart.
The live resin is formulated with full spectrum hemp extract derived from fresh frozen flowers. Vivimu uses a unique cryogenic BHO extraction method, which they say produces the best flavor, high, and texture, ultimately offering the ideal dabbing sesh.
Per gram, Vivimu is the cheapest option on our list by a landslide. The live resin costs $13.99, which equates to $0.014 per mg.
Vivimu consistently offers some of the most affordable products in the industry. This low price makes this a great option for anyone interested in dabbling in live resin.
The Final Verdict: Best Live Resin Cartridge
Our top pick is Binoid's Live Resin Cart. The superior flavor profile and strong psychoactive high earns them top marks. A little on the pricier side, Binoid's vapes are 100% worth the money.
Top Pick: Best Live Resin Cartridge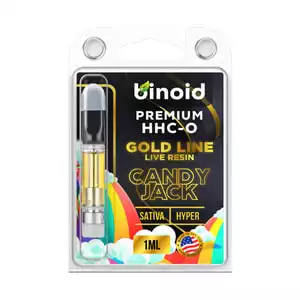 Delta Extrax' Live Resin Cart comes in at a very close second. The strain specific effects and smooth smoke showcase the vape's high quality. Once you factor in the insanely low price, this option is a no brainer.
In our opinion, all the vapes on our carefully curated list are the best live resin cartridges on the market.
Frequently Asked Questions: Live Resin Cartridges & Vapes
What is A Live Resin Vape?
Live resin vapes contain full spectrum cannabis extract or cannabis distillate and live resin terpenes. The extract is then put in a disposable or vape cartridge.
Full spectrum cannabis extracts are the live resin carts typically found in a dispensary.
Distillate live resin vapes are extracted from frozen cannabis or hemp and then combined with a distillate. This mixture could be Delta 8 THC combined with live resin terps.
Both versions are super tasty! Check out our comparison of Live Resin Carts VS Normal Carts to learn more about the differences between vape cartridges.
What Does Live Resin Cartridge Mean?
A live resin cartridge is a vape cart that has been filled with a type of concentrate known as live resin extract.
Live resin refers to the process by which the plant material is harvested and extracted, where cannabis flowers are frozen while fresh and later extracted.
Live resin carts indicate the type of vape oil contained in the cart hardware.
Why Are Live Resin Carts Popular?
Live resin offers one of the most flavorful smoking experiences. For fans of fresh flower flavor, this cannabis concentrate is the best of the best.
Because cannabis flowers are frozen right at the point of harvest, terpene profiles are maintained, as trichomes remain intact.
Remember, terps come from trichomes and the more varied the terpene profile, the more flavorful the concentrate..
Moreover, many medicinal users prefer the therapeutic effects from freezing the whole plant immediately after harvest.
What's The Difference Between Live Resin and Live Rosin Carts?
They're both extracts (i.e. cannabis concentrates). The main difference between the two is the extraction process and output rate.
Live resin is extracted via solvents like butane or propane which are removed later in the process.
Live rosin carts are created using a solventless extraction process. To extract cannabinoids and terpenes, a rosin press is used to apply heat and pressure to squeeze oil out of fresh frozen plant material. 
Live resin and live rosin also have different output rates. Using solvents to create live resin produces roughly 40 pounds of concentrate per hour. Live osin, on the other hand, is typically small batch and produces around 2 pounds per hour.
These two types of concentrates contain fresh flower flavor and potency. They have the truest taste of live cannabis plants.