Best THCP Carts 2023 Review: Budtender Tested
There are a lot of shady brands around exploiting the explosion in Hemp derived cannabinoids, Including THCP.
That's where I come in. I personally spent five years managing one of the most popular dispensaries in Oakland, CA, and know how to separate the top tier products from the subpar.
I've spent over 18 hours taking a bunch of THCP vape cartridges for a test drive, and getting sky high, to figure out which are worth buying.
So keep reading to discover everything you need to find the best THCP carts for you!
Description:

Free shipping
Huge variety of strains
250+ positive customer reviews

Description:

Potent
Excellent Value
Strain Specific

Description:

Unique HHC + D8 + THCP Blend
Potent
Frequent Site Wide Discounts

Description:

80% D9-THCP concentrate
Potency tested
Free delivery
THCP Carts Review Criteria
In order to find the best products on the market (THCP carts included), we follow a strict list of criteria before recommending any products to our readers. Following you'll find the review criteria we use for all of our extensive product reviews.
Tested In House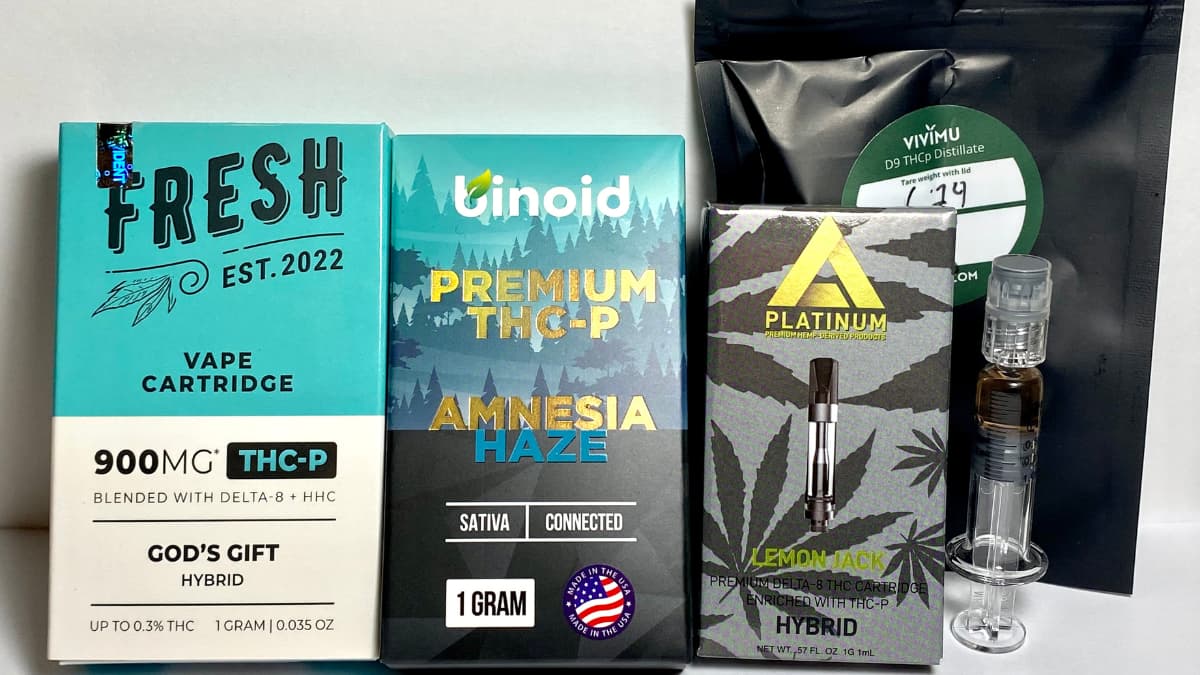 Before you can properly judge any product you need to try it firsthand. This is why we tested a handful of THC-P carts for this review. We spent 20 hours getting seriously stoned to determine the very best THC-P vape cartridges on the market. Somebody's gotta do it, right?
Only the highest quality THC-P vape carts earned an exclusive spot on our list. In any review we only showcase our favorite products.
Customer Service Ratings
What we really want to know is how the public feels about the brand in question. Essentially, this is going to be similar to how our audience feels about a certain brand. Customer service ratings can reveal a lot about a company and the products they offer.
These unbiased reviews speak to a brand's legitimacy. Solid brands have a huge following. And to maintain loyal fans you have to provide awesome customer service. Some policies we look for that result in higher customer service ratings include:
First time order discounts
Frequent sales
Satisfaction guarantees
Generous return/refund policy
Evening and weekend customer service hours
Customer service can seriously make or break a company. A high customer service rating increases the likelihood that the brand offers superior THCP products.
Brand Reputation
We always look at the reputation of a brand, especially when it comes to new products like THC-P vape cartridges that haven't been on the market very long.
This is why we look at brand reputation. Customer sentiment is more significant than attractive advertisements. If a brand has a good public standing we can expect solid THC-P products. In turn, we ask the following questions:
Is the brand in question well established in the hemp industry?
Are they trusted?
Is the brand a leader in hemp products, specifically THCP?
Is the brand known for selling high quality hemp products?
An excellent way to avoid low quality THC-P carts is to check out the brand's reputation. Companies that offer high quality products are typically held in high regard.
Current User Feedback
Before any THCP vape cartridges make it onto our list of superior THCP products, we look at how current customers feel about the product. Objective user feedback can reveal how good or bad a product is. When there are new brands or companies that we're unfamiliar with we read real customer reviews.
We spend hours scouring the web and combing through subreddits, online forums and verified reviews. To evaluate current user feedback we pose the following questions:
What do customers have to say about the product or brand?
Is the customer feedback positive or negative?
Then we compare what we find to our personal experience with the particular brand or product. Customer feedback is huge in helping us determine the best THCP vape cartridges out there. User reviews can tell us what to expect from any of a brand's hemp products, including THCP.
Third-Party Lab Testing
While hemp derived products are legal under the 2018 Farm Bill, the hemp industry is still federally unregulated. This means that hemp products don't have any testing requirements. Third party lab testing is the only way to verify the efficacy and safety of a product.
A crucial step before buying any hemp product is checking third party lab test results on the Certificate of Analysis (COA). Legit brands will always provide COAs for their products. It lets us know if a product contains harsh chemicals, heavy metals or foreign material.
If you want to be a conscious consumer, the COA cannot be ignored.
For every product we sample, we examine the following:
Are the COAs accessible to the public?
What types of COAs are available? Are the full panel or potency only?
How recent are the lab results?
Full panel lab reports will show a product's purity and potency. Potency only lab reports only show the cannabinoid levels. While we prefer to only highlight brand's that offer full panel lab tests, full panel testing isn't as common with novel cannabinoids like Delta 8, THC-O, THC-P and others as it is with CBD and THC.
Brands that have confidence in their THCP vape cartridges will offer some type of lab reports to customers. If a brand does not practice such transparency we recommend looking elsewhere.
Best THCP Cartridges
1. THCP Cartridge By Binoid
Based in Los Angeles, CA, Binoid is a well-known online hemp retailer with an amazing selection of high quality hemp products.
The brand has amassed a loyal fanbase in the past five years they've been in the business. With the quality of their THCP vape carts, it's easy to see why. These THC-P products are straight fire!
Top Pick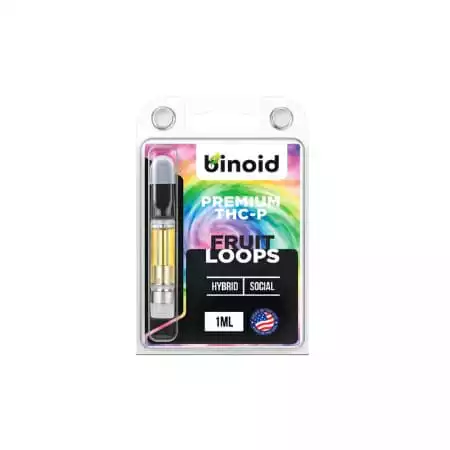 PROS (+)
Incredibly potent buzz
Tasty hemp-derived terps
Free shipping on all orders
CONS (-)
Not the smoothest
Expensive (if not on sale)
I tested Binoid's Amnesia Haze THC-P vape and was blown away. Made from a blend of THC-P distillate and Delta 8 THC, the Amnesia Haze felt stronger than the COA indicated. It tested at 89.8% total cannabinoids, but its effects felt like it should be testing in the upper 90%.
The vape cart comes in a teal and black box with metallic gold lettering. What I particularly love about Binoid is that they specify the type of strain and overall effect on the packaging. The Amnesia Haze is marketed as a "sativa" that will make you feel "connected."
These THC-P carts did just that. While I typically prefer Sour Diesel when it comes to sativa strains, the Amnesia Haze THCP vape did not disappoint.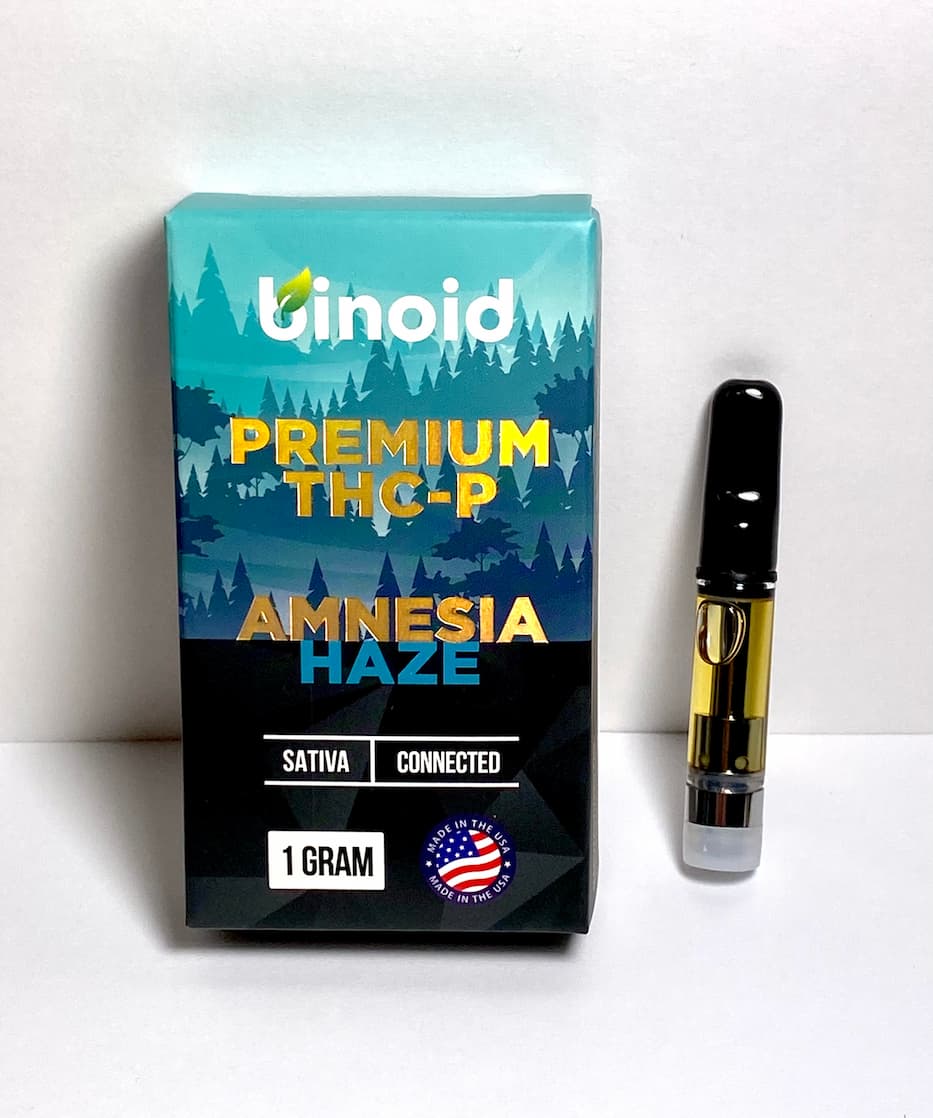 Flavor
I found the flavor of this vape cart bright and intense. This THCP vape is pungent, complete with lemony citrus flavors blended with hints of pine. Each inhale emits notes of grapefruit with a backdrop of woodsy aromas. The distinct flavors are evocative of the actual strain.
When it comes to flavors of THCP vape carts, Delta 8 THC vapes and other products made from novel cannabinoids, getting true to strain flavor is rare. The flavor of this Amnesia Haze THC-P cartridge really seemed to mimic the taste of the real strain, however, which is something we can appreciate.
Effect
In line with a pure sativa, Binoid's THC-P vape produced an intense cerebral high. I've consumed a lot of cannabis products in my day, and the buzz from this vape was about three times as strong as other Delta 8 or 9 vapes I've tried.
Binoid's Amnesia Haze cart gave me a boost of energy and made me very talkative. My mood was lifted for hours. A few puffs helped me get through a stressful day unscathed.
If you're a fan of sativas, I highly recommend this Amnesia Haze THC-P for daytime use. If social settings give you anxiety, take a hit before you leave the house. Just don't overdo it, as more THCP isn't necessarily better. This is seriously one of the strongest products I've tried.
Price Point
Binoid's THCp 1 gram vape cartridges are currently on sale for $33.99. This might seem pricey, but the cart is made with a Delta 8 THC and THC-P blend distillate. Overall, it's an excellent deal for a potent high quality THCP vape.
2. THCP Cartridge By Delta Extrax
Under parent brand Savage Enterprises, Delta Extrax have become industry leaders specializing in premium hemp extracts.
The brand carries top notch concentrates crafted from the hottest "new" cannabinoids, and their THCP cartridges are a great indication of the brand's commitment to quality. I tried the Lemon Jack THC-P cart and was flying high for hours.
Runner Up: Best Value Pick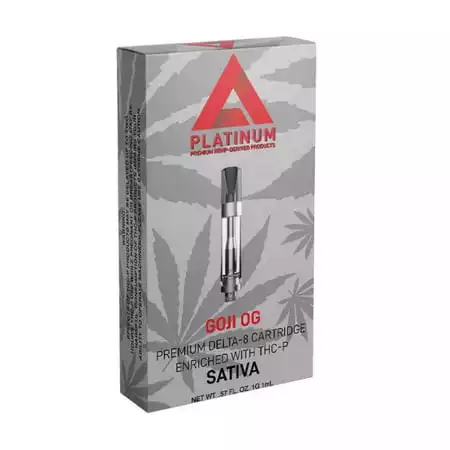 PROS (+)
Potent effects
Excellent value
Amazing flavor
CONS (-)
No returns or refunds
Shipping isn't the fastest
Everything in Delta Extrax's THCP product line is tested for purity and potency and contains a special blend of THC-P and Delta 8 THC distillate. According to the COA, the Platinum Lemon Jack vape I tested contained 25.28 mg of THC-P and 798 total cannabinoids.
The vape itself is housed in a sleek cardboard box adorned with shiny yellow lettering and gray cannabis leaves. It's classy in its own simple way, without being at all boring.
Flavor
The Lemon Jack THC-P had pungent diesel aromas with hints of sour citrus. Very reminiscent of the "classic" cannabis flavor and aroma.
Every time you take a hit, your taste buds are drenched in Meyer lemon flavors. The Jack Herer and Lemon Kush genetics give the vape distinct gas and pine undertones. Definitely super tasty and full of flavor, although I wouldn't call it a "true to strain" taste.
Effect
The Lemon Jack gave me laser-like focus. I was highly motivated and energized, which allowed me to breeze through my housework. I even had energy left over. A few minutes after vaping, I felt like I had a double shot of espresso. If you're looking for a pick me up daytime strain this cart is ideal.
It was super uplifting, without being overwhelming in the slightest. I will definitely return to this product when I'm in need of a pick-me-up.
Price point
At the time of writing the Delta Extrax' Lemon Jack THC-P 1 gram cartridge is currently on sale for $21.99. In all, it's a great deal for a full gram D8 + THC-P cart.
3. THCP D8 Blend By Fresh
Fresh is a new product line from Diamond CBD, and their products are just that. Fresh. Crafted from clean, pure, all-natural cannabinoids and real hemp terpenes, these are some of the purest products you can find made with minimal ingredients. Fresh's God's Gift THC-P cart gets third place on our list.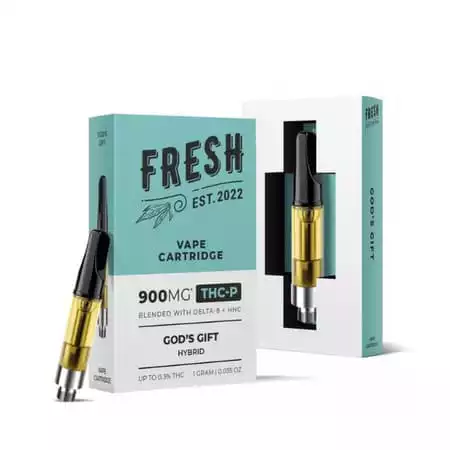 PROS (+)
Balanced high
Smooth hit
Real hemp terpenes
You won't find any fillers or artificial terps at Fresh, something we really appreciate about this product. Made from a proprietary blend of THC-P, HHC and Delta 8 THC distillate, God's Gift THC-P cart hit smooth and tasted divine.
The product's COA shows the THC-P levels at 0.0312% and 84.1% total cannabinoid content. This isn't the highest testing vape on our list but the effects felt about twice as strong as Delta 8 THC alone.
Flavor
Due to its OG Kush and Grandaddy genetics, the God's Gift vape has flavors of sweet berry and dank pine. The grape aromas are pleasantly intense with floral and woodsy notes.
God's Gift THCP vape by Fresh tastes similar to the actual strain, but definitely isn't a perfect match.That said, the flavor was still full-bodied and super pleasing to the palate.
Effect
The high was equally euphoric and relaxing. My mind was flying high in blissful cannabis clouds, but my body remained couch locked. I was struck. The happy vibes lasted until I slowly drifted off to a long slumber.
Word to the wise. This is not a THCP cart to use when you've got things to do. God's Gift is definitely ideal for night time use or moments of insomnia.
Price Point
God's Gift THC-P 1 gram vape costs $54.99, which is expensive compared to the other options on this list. Fresh claims the cartridge contains 900mg of total cannabinoids, but the lab used doesn't appear to differentiate Delta 8 THC from THC-P.
4. THC-P Distillate By Vivimu
Vivimu is a newer online hemp retailer that specializes in a wide variety of hemp goods at rock bottom prices. Quickly gaining traction with their high quality products made from the hottest cannabinoids, including THC-0, CBG, CBDv, HHC-P, and THC-P. We tried the brand's THC-P distillate, which earned the fourth (and last) spot on our list.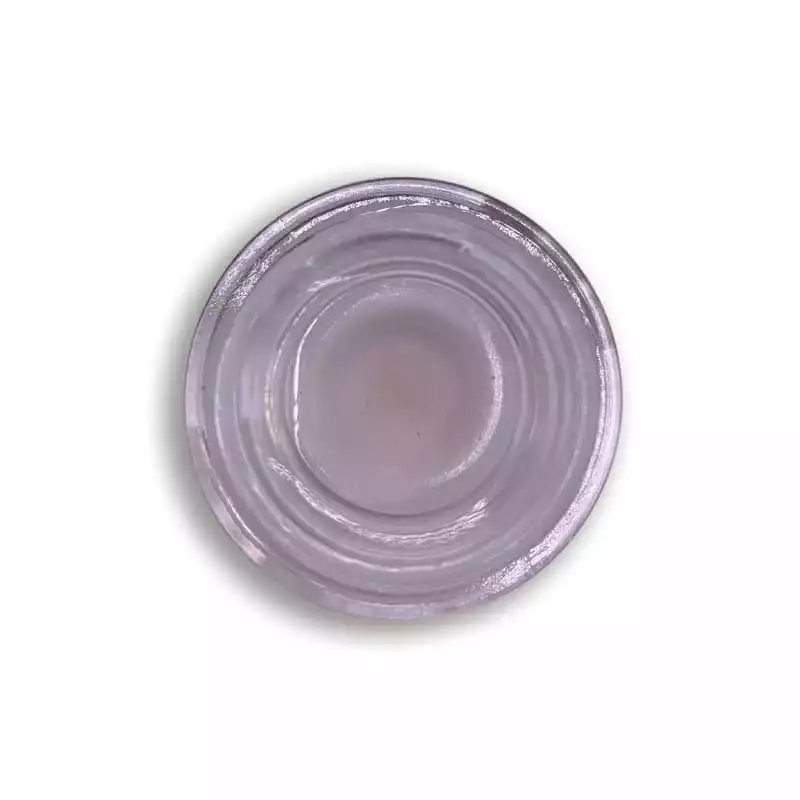 PROS (+)
Strong buzz
Very affordable
Full panel tested
CONS (-)
Must spend $100+ for free shipping
Only available in syringe form
Vivimu's goodies are unadulterated and free of GMOs, pollutants and fillers. Every product is thoroughly lab tested for purity, potency and quality. In order to offer a vast menu and some of the lowest prices in the industry, Vivimu partners with other companies that employ the same strict standards.
What makes their THC-P product unique is that the distillate is crafted from Delta 9 instead of Delta 8. It also only comes in a syringe, as they don't offer THC-P carts. That said, the syringe is pretty versatile. You can easily fill reloadable vape cartridges or apply the distillate to a dab tool.
Flavor
Vivimu's THC-P distillate does not have very distinct flavors. Subtle hints of pine and spice emit from the vapor. Overall the hemp flavors are faint.
This might be attributed to how potent the distillate blend is, but if you're going for a full flavor experience, this probably isn't the best product for you.
Effect
This THC-P distillate felt much stronger than traditional THC carts. The product tested at 83.2% THC-P according to the COA, and it honestly surpassed my expectations.
At first, the high was energizing and cerebral. As time went on, I noticed my stress had virtually disappeared as I became increasingly relaxed. The hybrid effects of this distillate were long lasting–I was super stoned for a solid few hours.
Price Point
The cost of Vivimu's THC-p distillate is $74.99 per gram. This equates to about $0.087 per mg of THC-P. This is, by far, the cheapest product on our list given its purity.
Note: The lab they used seemed to be able to detect THC-P with high accuracy which may be part of the reason for the lower price point. However, Vivimu is known for prices typically lower than the competition.
THCP Vape Cartridge Buying Guide
What Is THC-P?
THCP is a naturally occurring cannabinoid, or phytocannabinoid. Short for tetrahydrocannabiphorol or delta-9-tetrahydrocannabiphorol, THCP is often synthesized in a lab since it's not found in large quantities in the cannabis plant.
THCP is a psychoactive compound that's similar to THC, with THCP being much stronger than the classic cannabinoid we all know and love.
How Strong Are The Effects of THC-P?
THC-P is believed to have incredibly strong psychoactive effects.
Just how strong is incredibly strong? Strong. A 2019 study found THCP to be up to 30 times stronger than delta 9 THC. Researchers discovered that THCP was just as active as Delta 9 THC in smaller doses. Approximately 50% less THCP was needed to produce the same effects as THC.
Why Are THC-P Vape Cartridges Mostly Blends?
It's very hard to find vape cartridges made from pure THC-P. THCP is so potent that you only need a tiny amount to get high. As a result most hemp brands use a delta 8 distillate as the base, then add a small amount of THCP distillate to the blend to boost potency.
Another reason that THCP carts are mostly blends is THCP is a naturally occurring cannabinoid that only occurs naturally in small quantities. It would take a lot of plant material to source pure THC-P, making it much more efficient to blend it with other cannabinoids.
Do any vapes contain pure THC-P?
No. At least we haven't come across any. As we said above THC-P is much stronger than THC and it naturally exists in tiny amounts.
For one, a pure THC-P cart would be too strong for most consumers and could cause unwanted adverse effects. It would also be very extremely expensive and time consuming to make a pure THC-P cart.
THCP Cart COA Analysis
Most COAs don't display THC-P on the lab reports. This is because very few labs can accurately test for the compound. Analyzing THC-P levels requires additional testing equipment and samples for a baseline, which is expensive. And seeing that THCP testing isn't required, many labs won't test for it at all.
Most lab tests also won't pick up on the tiny amount of THCP in most carts. So, you will usually encounter brands that show you a distillate COA instead (i.e. the raw ingredient). That way users can see what the brand adds to the cart.
The Final Verdict: THCP Carts Review
Binoid's Amnesia Haze cart took the top spot for best THC-P cart of 2023. The out of this world high remained balanced and the terpenes were tastier than the competition. It's not the most affordable option on our list but the long lasting effects and premium distillate make it worth every penny.
Runner Up: Best Value Pick
Delta Extrax's Lemon Jack THC-P is a worthy contender at a much cheaper price. It's excellent for those looking to test the THC-P waters without diving in headfirst. No matter what product you choose, any of the THC-P carts on our list will not disappoint.
Frequently Asked Questions (FAQ)
What is a THC-P High Like?
Research on THCP is very limited so we must rely on anecdotal evidence when it comes to the cannabinoid's effects. Everyday cannabis consumers report that the THCP high is similar to THC…but much stronger.
Most report experiencing intense euphoria, sedation, relaxation, increased heart rate and pain relief. The high is also described as stimulating and cerebral. Consumers also say the effects last longer than delta 8 or 9 THC.
Is THC-P stronger than HHC?
Yes. THCP is significantly stronger than HHC. HHC has a comparable potency to delta 8 THC, which is typically a "lighter, mellower" high than delta 9. A 1991 study discovered HHC is approximately 1/10 – 1/25 less potent than delta 9 THC. If this is accurate, THCP may be up to 300 times stronger than HHC.