Plus CBD Review: Tried and Tested Legit Hemp Brand
Finding a reputable CBD brand is more challenging than ever.
That's why I have spent over 20 hours assessing and product sampling the Plus CBD brand.
So how do they measure up against the competition? Let's just say their products are some of the industry's best. And this is coming from someone who's worked in a dispensary for over 5 years.
Here's my more detailed take on the Plus CBD brand.
Is Plus CBD Legit?
Yes. Plus CBD is 100% legit.
Plus CBD's parent company is CV Sciences. CV Sciences is a publicly listed company with a vast footprint.
They're actually the first hemp company to obtain Generally Recognized as Safe (GRAS) status. This means that their products conform to FDA safety requirements.
If the Plus CBD brand sounds familiar, it's because you've probably seen their products before.
Plus CBD is available in many retail stores and pharmacies. They're sold in big box retailers too.
Plus CBD Overview
Plus CBD was created in 2014 under its parent company, CV sciences.
Headquartered in San Diego, California, the Plus CBD brand is committed to producing quality products backed by science.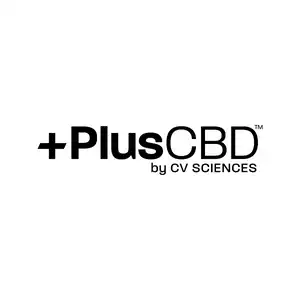 PROS (+)
Highly effective CBD products
Full panel lab tested
Generous 25% first-time order discount
CV Sciences' trailblazing facility also adheres to all Good Manufacturing Practices (GMP).
Every item undergoes lab testing from development to production to ensure they meet the company's strict standards.
CV Sciences' subrand, Plus CBD, is ranked as one of the top-selling brands of hemp-derived CBD on the market.
Needless to say, the brand has an excellent rapport with customers. Plus CBD truly lives up to its excellent reputation in our testing too.
Plus CBD products are made with agricultural hemp, not industrial hemp. They utilize a C02 extraction process which is regarded as one of the safest and purest methods in the industry.
Plus CBD uses top-tier full spectrum extract to create quality hemp products for every type of consumer, including pets. A rarity in the cannabis realm.
They also have an impressive CBD collection. You can choose between CBD tinctures, topicals, gummies, and softgels.
Their Reserve Collection features gummies and oil with a special blend of CBD and slightly higher level of THC than usual. There's something for every CBD lover!
All offerings have seed-to-shelf trackability and are full panel tested.
Their GRAS designation is a testament to the brand's commitment to science and research.
Average Cost per MG
The cost largely depends on the product type. But on average, you can expect to pay about $0.05-$0.10 per mg of CBD.
What We Like About the Plus CBD Brand
GRAS Approved
Getting GRAS approval is no easy task. It took CV Sciences five years to achieve the distinction.
Having the Generally Recognized As Safe status means that Plus CBD uses ingredients that have been evaluated for safety by experts. According to the FDA, the GRAS product's intended use does not cause harm.
To achieve the GRAS status, PlusCBD had to prove that all of its products meet or exceed FDA safety standards.
Plus CBD and CV Sciences state that they also follow GMP – Good Manufacturing Practices but haven't received certification yet.
Why does this matter?
With the explosion of CBD products in the hemp industry, safety has become an issue. When it comes to consuming clean products, CBD that follows GMP is consistent in delivery and effectiveness.
A company that uses GMP basically means that they adhere to the highest manufacturing standards in accordance with the FDA usually reserved for the pharmaceutical industry.
During the production process, the GMP product is thoroughly inspected and expertly documented.
When you purchase a Plus CBD product, you're getting a safe, efficacious, and high-quality product every time.
Third-Party Testing
The company boasts some of the safest and cleanest CBD products available.
Every item is third-party tested by an independent ISO-17025 accredited lab. CV Sciences additionally has an in-house lab to evaluate all of its products.
PlusCBD oil goes beyond potency testing by using full panel testing. As a result, consumers can have confidence that every item they buy is fully tested for safety and purity.
They also practice batch-level testing, ensuring across-the-board uniformity. We appreciate Plus CBD's transparency. All full panel COAs are easily accessible on their website too making it super easy to verify.
Extraction Method
PlusCBD oil utilizes the industry's cleanest method: CO2 extraction.
The CO2 extraction method allows for full spectrum hemp extract that retains rich terpene profiles.
Only C02 is used to extract the cannabinoids and terpenes from the hemp plant. This gives Plus CBD products higher effectiveness as the end product contains the same chemical make up as the plant it's extracted from.
Plus CBD Oil Review
Plus CBD oils are made with full spectrum extract (including minor cannabinoids), terpenes, and fatty acids.
They're available in an extra strength formula (250 mg) or maximum strength formula (1500 mg). And come in two varieties: unflavored or peppermint oil.
Plus CBD drops are only sold in a spray form which is easy to administer directly into your mouth or your favorite beverage.
Product Highlights
Non GMO
Gluten free
Vegan friendly
made with organic ingredients
I tried their Full Spectrum CBD Oil Maximum Strength Formula in Peppermint flavor. It's their highest potency CBD product.
The CBD oil spray arrived in perfect condition, nestled in a thick cardboard box. The pearlescent box was labeled with all the vital info: dosage, flavor, supplement facts, ingredients, and a little background on the brand.
The peppermint oil drops come in an amber glass bottle with a spray nozzle top.
It contains the same info as the box, complete with a QR code to access the COA.
The QR code connects you to the product page. Each batch is linked to its corresponding COA. So you'll need to locate the batch number on the box and click on the correct lab report.
The product I tried passed all pesticide, heavy metal, microbial and residual solvent testing. For potency, it tested a little higher at 1680 mg of CBD. The advertised strength is 1500 mg of CBD. No complaints here!
The CBD oil drops had a pleasant minty taste. Overall, it was palatable.
The hemp taste was well masked by the flavors of peppermint and monk fruit. Since it is minty, you are more limited to what beverages you can add it to.
As you may have guessed, the CBD oil drops have a fresh mint aroma. It smells like unwrapping an after-dinner peppermint. If you like those, you'll love this hemp oil!
The CBD oil drops started to work in about 20 minutes. I used it sublingually, so I felt calming effects quickly.
As soon as feelings of tranquility took over, my anxiety melted away. And my mind was at ease. After a few hours, the total relaxation ushered me into a deep sleep.
Price
These Plus CBD oil drops are not cheap. But we think they're worth every cent! At $120 per bottle, the price comes out to about $0.08 per mg of CBD.
Yup. It's expensive. But they're incredibly effective.
Plus CBD Gummies Review
For those who enjoy edible forms of CBD, this product is meant for you.
Plus CBD edibles are made with full-spectrum hemp and organic ingredients. They're also vegan-friendly and gluten-free.
They offer extra strength and Wellness Blend gummies. Both gummies have the same amount of CBD, but the Wellness line is doctor formulated.
Product Highlights
non GMO
extract derived from EU-certified hemp seeds
zero artificial sweeteners or flavors
gluten free & vegan
soy free
I tested Plus CBD's Wellness Blend CBD gummies in Calm and Sleep.
The Wellness Blends are great for those seeking a little more from their CBD gummies. They contain clinically researched ingredients, such as melatonin, that assist calmness and sleep.
Calm gummies contain 10 mg of CBD, 100 mg of L-Theanine, and 50 mg of 5-HTP per piece.
Sleep gummies contain 10 mg of CBD, 3 mg of melatonin, 50 mg of lemon bark, and magnolia per piece.
The edibles are sealed in a plastic jar with a twist-off lid. Just a heads up, the container isn't childproof so store these tasty chews safely.
Conveniently, there's a QR code right on the label. It will link to all the COAs for that product.
Simply click on the matching lot # (located at the bottom of the jar), and voila.
I located the correct COAs in a flash. The gummies passed all contaminant testing. The products were right on point in terms of potency, testing just over 10 mg of CBD per piece.
What's even better, the gummies are super fresh! Made within the last 3-4 months, both types were bursting with flavor.
Plus CBD claims these are the "best tasting gummies ever made." I can say they're pretty damn good. They rank among the yummiest CBD edibles I've tried.
I found that the chews had a delectable fruity taste. It was reminiscent of biting into fruit leather but in a soft gummy form.
The cannabis taste was non-existent. The berry flavors were delicious. And while these are gluten-free gummies, the texture was still on point too, all while tasting like real fruit.
Both the Calm and Sleep wellness gummies boast 4.5-star average reviews. As someone who struggles with sleep, I'd give them 4 stars.
I needed to take 3 sleep gummies instead of the suggested 1 in order to fall asleep.
On the other hand, the calm gummies delivered. I was in a state of Zen, and my mood was uplifted. They were effective but didn't put me over the edge.
These gummies are great for relieving anxiety in the daytime or relaxing after a stressful day.
Price
The Wellness Blends formula gummies cost $0.09-$0.12 per mg of CBD, for the 60 count and 30 count, respectively.
Per mg of total cannabinoids, they cost about $0.04-$0.06.
The larger quantity you buy, the more you save.
Plus CBD Capsules Review
If you want taste-free therapeutic CBD effects, Plus CBD oil capsules are "it".
The softgels are mega potent! Per serving, it's one of their strongest CBD products available.
At 50 mg of CBD per capsule, these may be too intense for beginners. But those needing a bigger dose of relief in a small package, rejoice!
Made with full spectrum hemp extract, the Maximum Strength Softgels are a quick and easy way to get a large dose of CBD.
Compared to Plus' CBD oil drops, these capsules win in terms of convenience.
Product Highlights
vegan
gluten free
non GMO
US Hemp authority certified
Packaged in a dark glass bottle, these softgels are fire. After taking just one, I was flying high in the CBD skies.
The PlusCBD oil brand makes sure to check all boxes when it comes to labeling.
The branded label is elegant and concise. The box and bottle contain mg per capsule, total mg, ingredients, and QR code.
The QR code is located on the box and the bottle. Finding the COA couldn't get any simpler! Again, you'll need to click on the correct batch number, but you can quickly find it on the box or bottle.
According to the COA, the softgels are passed pesticide, heavy metal, microbial, and residual solvent testing.
However, the CBD product did test higher than the labeled potency at 67 mg of CBD per capsule.
Since the CBD oil is inside a capsule, there is zero taste or aftertaste. I didn't experience any unappetizing burps after taking one. This can be an annoying issue with some pills.
When it comes to effects, this PlusCBD oil product was my favorite of the bunch! The "maximum strength formula" lives up to its name.
A half an hour after taking one capsule, I was transported to my happy place. I was calm, anxiety-free, and de-stressed for hours.
I was struck in a trance of complete relaxation.
Those looking for maximum stress relief should check out these CBD products!
Price
These CBD softgel capsules may seem pricey at $85 per bottle, but the per mg price is a steal!
The cost per mg of CBD is $0.03-$0.05. Per total cannabinoids, they cost $0.02-$0.04.
Again, the more you buy, the more you save.
Plus CBD Topicals Review
The PlusCBD oil brand offers a plethora of topicals.
From CBD balm to pain relief cream and roll-ons, there's a topical CBD product for everyone.
Made from their proprietary hemp oil extract, Plus CBD's topicals are formulated to offer short-term relief from aches and pains.
Plus CBD claims that these topicals can "restore homeostasis and balance" in the skin by working with our endocannabinoid system.
The rubs are fragrance-free and crafted with natural botanical ingredients. So they should be okay for sensitive skin.
I personally tried the CBD Pain Relief Arthritis Cream and the Extra Strength Formula CBD Balm.
As someone who suffers from many allergies and irritations, I found them gentle on my skin.
CBD Pain Relief Arthritis Cream
Plus CBD's arthritis cream is formulated with 10% camphor and 5% menthol, and 750 mg of CBD per tube.
It is designed to soothe aches and pains in the joints, hands, and feet that are characteristic of arthritis.
All of their creams and balms contain fatty acids from the hemp plant. These ingredients help to nourish and smooth skin.
Product Highlights
natural emollients
free of parabens, sulfates, and pesticides
vegan
no phthalates
no artificial dyes
The topical is packaged in a plastic lotion tube with a snap-on lid.
The box encasing the tube contains additional product information, including the QR code. So don't toss it before checking out the COA.
I can confirm that this topical CBD product passed all contaminant testing.
It also contained the same amount of camphor and menthol as claimed on the label.
At 820 mg of total CBD, the cream tested higher than the advertised 750 mg of CBD per tube!
I rank the CBD Pain Relief Arthritis Cream as one of the most effective topical CBD oil products I've ever tried. Yup. It worked that well!
As a freelance writer, I type A LOT. And the joints in my hand and fingers don't let me forget it.
I'll admit I was skeptical when I applied the cream. But within minutes my joint pain melted away.
The magical blend of menthol, camphor, and CBD targeted the aches in my sore hands. Since the relief is temporary, I needed to apply the cream twice daily.
Not only was the CBD cream effective, it smelled wonderful!
I'm not the biggest fan of menthol. Yet the mixture of lavender and frankincense oil balanced the scent. Once you rub it in, the menthol aroma practically disappears.
As an added bonus, the natural emollients like argan and marula oil left me with smoother skin.
Plus CBD oil's arthritis cream has earned a permanent spot in my daily routine.
Price
The CBD Arthritis cream is only offered in a 2 oz tube. You can expect to pay $0.05 per mg of CBD.
This is a killer deal for CBD topicals! You're also getting camphor and menthol in the price, making it 100% worth it.
Extra Strength Formula CBD Balm
PlusCBD Oil Balms are ideal for improving your skin's texture and appearance.
Crafted with full spectrum CBD rich hemp extract, this topical also contains botanicals and phytonutrients such as vitamin e and green tea.
This combination of natural ingredients and fatty acids is like the gold formula for supple, hydrated skin.
Product Highlights
vitamin E
natural emollients and humectants
paraben-free
sulfate-free
vegan
no phthalates
no artificial dyes
The CBD balm is packaged in a branded box, labeled with a few extra product details then the container. The balm itself comes in an attractive glass jar with a screw on top.
A QR code is located on the box and jar. This provides quick access to the COA.
You'll be linked to the product's page and just need to click on the correct batch number.
According to the COA, the balm passed pesticide, heavy metal, microbial and residual solvent testing.
The potency was nearly spot on at 108 mg of CBD.
I found that this balm had a pleasant peppermint aroma with hints of green tea and sweet almond.
Though at the forefront, the minty scent was mild and blended well with the natural botanicals.
Being a balm, the topical was a bit too oily for me. But it is very hydrating! When applied on the skin you'll get a nice shine.
The CBD in this product isn't intended to promote relief from aches and pains. This I can agree with.
Instead, the hemp plant extracts are met to soften and support the skin by working with our endocannabinoid system.
I can say, my skin was much smoother. It had an improved supple appearance after one application.
This is an excellent choice for those wanting a high-quality CBD moisturizer with vitamin e.
Price
The CBD balm is only offered in a 1.3 oz size. At $0.35 per mg of CBD, this is one of the most expensive products from PlusCBD Oil.
It may not be the best option for every budget.
Plus CBD Reserve Collection Review
The Reserve Collection is a specially formulated blend of full spectrum cannabinoids. Each product contains a 10: 1 ratio of CBD:THC.
Plus CBD created the line to honor their first ever PlusCBD oil.
This collection has limited offerings. Nonetheless, you can choose between gummies and CBD drops, which are available in two flavors each.
Product Highlights
non GMO
vegan
gluten free
proprietary blend of over 150 cannabinoids
I sampled the Chocolate Mint CBD Oil and the Peach CBD gummies.
Both CBD products contained 25 mg of CBD and 2.5 mg of THC per serving.
The Reserve Collection features the sleekest branding of all Plus CBD products.
Encased in black packaging with metallic gold accents, it's apparent that these products are special. The CBD drops come in an amber glass vial. While the gummies are nestled in a dark jar with a child-proof lid.
QR codes are located on the box and container. So the COAs are merely a few clicks away.
Both COAs passed all contaminant testing. Like the other products in our Plus CBD Oil review, they also tested slightly higher in potency.
The Reserve Collection features some of the brand's tastiest edibles too!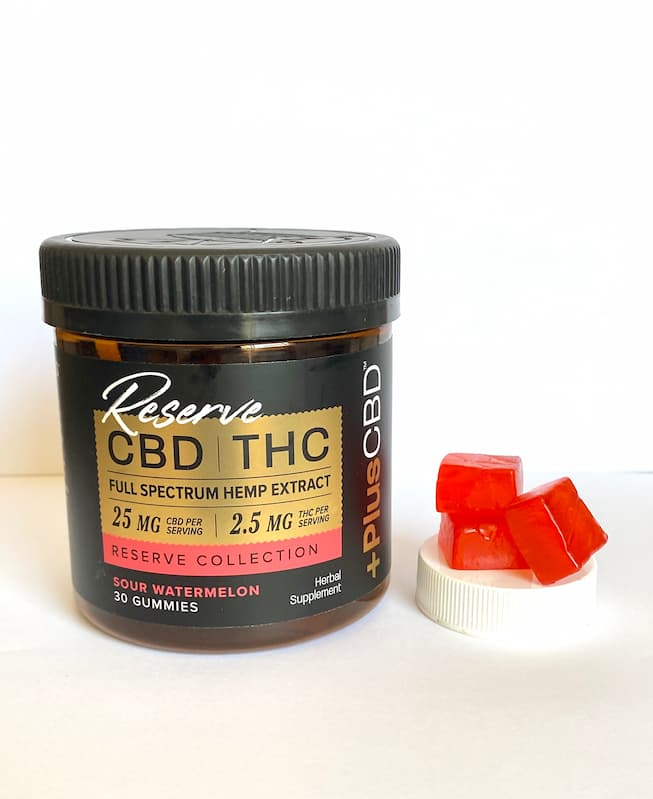 The CBD drops tasted like a decadent dark chocolate mint truffle in oil form. For those sensitive to oily tincture, this one's a little on the thicker side.
The sour CBD THC gummies tasted like peach candy. The hints of lemon masked the hemp taste entirely. Take caution with these chewy delights! They're so good I had to hide the jar.
As these two CBD oil products contain the same amount of cannabinoids, the effects were similar. Most notably, the tincture seemed to kick in faster.
The combo of CBD and THC gave me a mellow buzz. I was relaxed yet uplifted at the same time.
The high was mellow enough to be taken during daytime. Plus CBD's reserve collection has the perfect ratio for producing major relaxation. But, if you're looking for something stronger (and legal in all states) check out our Delta 9 Gummies review.
Price
Both cost $0.07 per mg of CBD. And $0.06 per total cannabinoids.
The Final Verdict: Plus CBD By CV Sciences Review
Overall, Plus CBD lives up to its stellar reputation.
They are one of a few brands to earn Generally Recognized as Safe (GRAS) status and follow GMP for all of their products.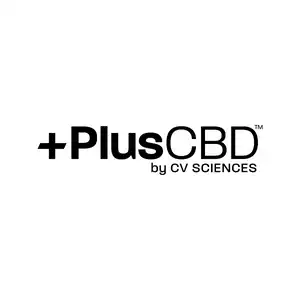 Not only is Plus CBD committed to safety, everything we tried was yummy and effective.
The company's full panel testing and 90 day refund are hard to beat.
In terms of quality and cleanliness, PlusCBD oil is a leading brand in the CBD industry.
If you're looking for top-quality CBD products, we highly recommend you give them a try!
Frequently Asked Questions
Is PlusCBD oil a good brand?
Definitely. The Plus CBD brand is highly reputable and one of the most popular CBD brands on the market.
The company is one of a few to achieve the Generally Recognized as Safe (GRAS) status. So all products adhere to the FDA's (Food and Drug Administration) strict product standards.
They also practice seed to shelf traceability, so you can follow any product from inception to completion. With PlusCBD oil, quality assurance is at the forefront.
What does PlusCBD oil do?
While Plus CBD cannot legally make medical claims when it comes to their products, they can provide a lot of health benefits.
Based on our experience testing Plus CBD products, depending on the brand's product line, Plus CBD oil can provide pain relief, ease muscle aches, promote sleep, reduce inflammation and ease stress or anxiety.
Is PlusCBD Oil Full Spectrum?
Yes! The Plus CBD brand uses full spectrum hemp extract in all of their products. All hemp is derived from plants grown using EU-certified hemp seeds.
Plus CBD oil products are produced via a C02 extraction process, offering superior purity and quality.
Does PlusCBD Oil Have a Money Back Guarantee?
Yes. Plus CBD has a 90-day refund policy for their products. If you are unsatisfied with your PlusCBD oil purchase, you may send it back for a full refund minus shipping charges.
Where is PlusCBD Oil Hemp Sourced?
PlusCBD Oil uses hemp sourced from Kentucky and Netherlands-grown hemp. All of their hemp oil extract is U.S. Hemp Authority Certified.