Binoid Review: Delta 8, 10, THC-O, HHC & CBD
As a former medical marijuana dispensary employee, I often analyzed products and determined which suited which type of person.
Sometimes you find something perfect and share it with all of your clients. This is my way of doing that for those new to the ever-evolving cannabis culture and the alternative cannabinoids springing up on the market.
Keep on reading for my tried and tested Binoid review!
Who Are Binoid?
The Los Angeles-based company Binoid began in 2018.
The brand started with CBD and Delta 8 THC products. Since then, Binoid has expanded into other popular cannabinoid products, all of which are accompanied by raving reviews!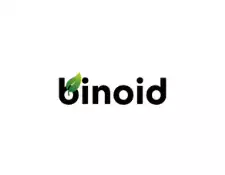 PROS (+)
Huge alternative cannabinoid range
Highly rated by customers
Decent pricing
Free shipping
CONS (-)
Lab tests aren't full panel
No mid-range potency products available
Their goal was to create products with quality ingredients that are both unique and effective without breaking the bank. Which I'd say they've been more than just successful in.
Binoid operates a state-of-the-art manufacturing facility that is cGMP certified, handling the extraction of cannabinoids from Hemp.
So what's on offer exactly?
Product Range
When it comes to the product range, Binoid is hard to beat. They have Delta-8 THC, Delta-10 THC, THC-O, THCV, and THC-P products. If you're after flower, their subsidiary Bloomz Hemp has you covered too.
When it comes down to the products themselves, these range from vape carts and pens right through to infused Krispie squares. Yes. You read that right!
Hemp Source
Binoid uses sustainable and cutting-end technology to farm their Hemp in local Oregon.
The environment in the state makes for excellent outdoor hemp farming providing the hemp plant with all it needs to achieve potency without compromising on terpenes.
Third-Party Lab Testing
While reviewing their website, I found that all products were recently tested with all certificates of analysis available at the bottom of the pull-down list.
It would have been better to have the lab results at the bottom of each product, but nonetheless, the data is there with easy access to cross-reference.
Brand Reputation
Binoid has quickly established a reputation for products that more than exceed the benchmark.
Regardless if you're looking for hard-hitting THC-O carts, D8/D10, THCP for sale, or just CBD to take the edge off.
Overall, Binoid has a positive brand reputation across customer reviews regardless of product.
But it's important to note that the reviews on Reddit were mixed when compared to the reviews found on the Binoid website.
Shipping & Customer Service
The great thing about Binoid is that shipping is free and fast, with most packages sent in the mail the same day the order is received.
Many people commented on the speed of delivery and how, when a product is damaged, the replacement is shipped out to you right away.
As for customer support, they are known for their charming and knowledgeable support personnel. However, the only method of contact is via email, but they were swift in replying in my testing.
Binoid Delta 8 Review
For Delta 8 products, Binoid carries vapes, gummies, tinctures, dabs, and capsules. They also have bundles which give you the best variety for a lower price. Winner!
PROS (+)
Huge selection
Very potent
Well priced
Free shipping
CONS (-)
No milder potency products available
Great for: Potency seekers and terpene lovers (multiple terpene profiles available).
Not so good for: Anyone looking for milder effects with more balanced buzz.
Delta 8 Carts & Pens
Binoid offers six different Delta 8 vape cartridges. The flavors are Blue Dream, Northern Lights, Watermelon Zkittlez, Tangie, Sour Diesel, and Koi.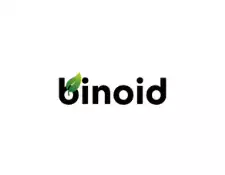 Great for: Those who like hard hitters
Not so good for: Someone after a full spectrum profile
I tried three of these vape carts and all of them delivered the buzz I was after.
An even hybrid, the Blue Dream vape produced a balanced high. My mind was in the clouds while my body was in a state of total relaxation. This product is better for midday or later as the calming effects can be quite intense.
Northern lights led to a full body relaxation and gave me happy vibes before the drowsiness took effect.
The initial mental euphoria combined with total body relaxation makes this product perfect for unwinding after a demanding day.
Best for an anytime high, the Pineapple Express vape had a very uplifting effect. It kept me energized throughout the day. It's the perfect pick me up for those times that seem to drag on endlessly.
But what if you need an all-in-one solution? Don't worry. The brand also offers disposable vapes.
When it comes to bundles, this is where Binoid really shines. You can pick up a 6 or 12 pack bundle with an average of 20%+ off the price if you bought them individually.
An excellent deal! It's also pretty easy to pick up multiple carts if you're a fan of terps. Binoid provides a good mix of Sativas, Indicas, and Hybrids in their bundles.
These include Blue Dream, Mango Kush, Grand Daddy Purp, Lemon Haze, Gelato, or Strawberry Lemonade.
The potencies for the Binoid Delta 8 vapes are approximately 92% Delta 8 THC. Excellent for a hard-hitting buzz!
Delta 8 Edibles & Capsules
With Binoid, edibles range far beyond your regular Delta 8 gummies or Delta 8 capsules.
Here you can find great gummies, suckers, chocolate brownies, and Krispie treats. They come in a host of flavors and are produced by a variety of brands. Yes – Binoid carries their own and other brands too.
PROS (+)
Discreet
Large assortment
Variety of potencies
CONS (-)

More expensive than carts per mg D8
Great for: Budgeters. Their softgels 750 mg bottle is a great deal because you will receive enough capsules for a month (if you consume one capsule per day) for a great price.
Not so good for: Vegans. Aside from the softgels, the rest of the products aren't vegan.
The Premium Delta 8 Gummies come in three flavors: green apple candy, strawberry bliss, and peach dream gummies. With 25mg D8 per piece, these pack a punch without any compromise on flavor.
Taken before a jam-packed day, these delectable gummies got me motivated. It was as if I kicked into high gear, ready and willing to take on whatever was thrown at me. After a few hours, the energized feeling mellowed out in a relaxing body high.
These offered a hybrid experience, great for being productive before feelings of tranquility take over.
Interestingly, you can also pick up 50mg D8 lollipops. Yes, these aren't strictly edibles, but as they're absorbed sublingually, you need less than you would with a gummy.
Each pack comes with two lollipops, and you can choose between two flavors: blue razz or cherry.
If you want something super discreet and in various strengths, try the Delta 8 soft gel capsules.
These come in 10 mg of Delta 8 per gel cap in the 300 mg bottle or 25 mg of Delta 8 in the 750 mg bottle. These caps are also gluten-free, non-GMO, and made in the USA.
If you're a chocolate lover, then look no further than the chocolate chip cookies and brownies. The chocolate chip cookie is vegan and has a potency of 50 mg of Delta 8 per cookie.
Most people just eat a quarter of the cookie per dose. But, for you brownie lovers, the brownie also contains 50 mg of Delta 8.
Delta 8 Concentrates
One of the great things about Binoid is its assortment of products to try.
For concentrates, the most popular product is the Delta 8 THC wax dabs in several terpene profiles like Blue Dream, Lemon Squeeze, Fruity Pebbles, OG Kush (personal fave), Zkittlez, and Pineapple Express.
PROS (+)
Perfect consistency for dabs
Rocketship potency
Free shipping
CONS (-)

Single cannabinoid and terps only
Great for: The assortment of strains they have in dabs!
Not so good for: Those looking for lower potency and balanced effects
Each pack contains 1000 mg of Delta 8 THC and makes the perfect addition to your dabbing rig.
Now, if you're anything like you're going to power through these with your rig (I love dabbing). In which case, you'll be happy to know that you can grab a 20%+ discount if you buy the D8 wax bundle.
You can get these in a 6 or 12 pack bundle and dab away to your heart's content. Not to mention, they throw in a bonus dab for a 6 pack and two bonus dabs in a 12 pack.
Other Alternative Cannabinoids
Yup. The Binoid cannabinoid range doesn't end there. The brand is becoming the status quo brand to shop for new and emerging alternative cannabinoids.
Some of these have effects that are similar to if not stronger than D9-THC but ship to all states, unlike D8!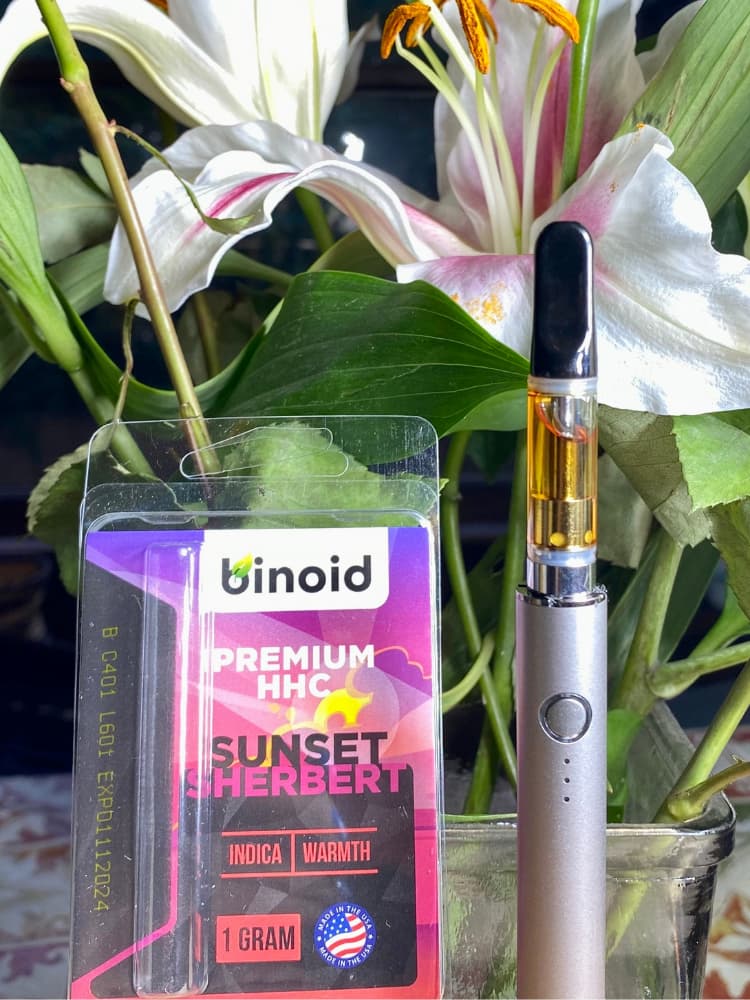 Binoid HHC Review
HHC is a hemp-derived semi-synthetic cannabinoid that is taking the cannabinoid market by storm.
Why?
Because it's much stronger than D8 or D9 THC, and it'll ship right to your door without an issue!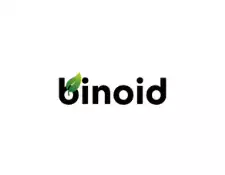 PROS (+)

Excellent pricing
High potency
Great for states where D8 is banned
CONS (-)

Semi-synthetic
Effects may be too strong for some
Great for: Anyone looking for a D8 replacement or for something with more intensity.
Not so good for: Anyone not after potency
First up are the 95% HHC carts. With 95% HHC & 5% terpenes, these are pure power with tasty flavor.
Currently, the range of strains on offer includes Sunset Sherbert, Hawaiian Sunrise, Cali Gold, Lucid Blue, Super Silver Haze, and Gorilla Glue.
I tried a couple of these carts and loved them!
The Super Silver Haze was a true sativa. This cart elevates your mood with feelings of pure happiness. Each puff produces a major energy boost, making it ideal for daytime use.
Whereas the Sunset Sherbet vape allowed me to let go of my worries and simply unwind. Perfect for the end of a hard workday, the body high is accentuated by mental calmness.
Second to the carts, you'll find 92% HHC tinctures. With each bottle containing 1000 mg of HHC distillate, diluted in MCT oil.
This was the longest lasting HHC buzz from the products I tried. It quickly induced incremental feelings of bliss.
The high crept on slowly at first, then quickly took hold of my mind or body putting me at complete ease. I recommend the tincture for binging your favorite tv shows, get ready for giggles.
Each ML contains 33.33 MG of HHC, with the recommended dose being ¼ to ½ of a one-milliliter dropper.
Related Reads: What Is HHC?
Binoid THC O Review
Binoid has some of the broadest assortment I've seen where it comes to THC-O. This includes gummies, cartridges, wax, tinctures, and disposable vapes.
PROS (+)

Large THC-O range
Highly rated
Ships to all states
CONS (-)

Semi-synthetic
Much stronger than D9
Great for: People seeking a highly psychedelic experience
Not so good for: Balanced effects
Related Reads: THC-O Acetate, THC-O Carts
The most popular product in the range is the gummies by far.
These THC-O gummies come in 500 mg bottles, with flavors including Blueberry Pie, Pina Colada, Sour Cherry Lime, and a mixture of the three. Like other Binoid products, you can grab these in a bundle and save 20%!
Their disposable vapes come in the strains Maui Wowie, Do Si Dos, Blue Zkittlez, and White Runtz. The White Runtz was singled out, especially by Binoid fans for being terp-tastic.
When it comes to THC-O carts, you can pick from Blue Zkittlez, Do Si Dos, Maui Wowie, White Runtz, Skywalker OG (another fave), and Super Harlequin. Buy them in a bundle and save as per usual too.
For the sugar wax dabs, you can pick up Banana Kush, Grape Ape, or Strawberry Blonde. They come both individually and as part of a bundle for a reasonable price per gram.
Lastly, you can grab a THC-O tincture in either 1000 or 2000 mg per bottle.
Binoid THCP Review
Alright. If you're here and you're looking for the most potent effects, then THCP is exactly that.
As usual, Binoid has THC-P vape cartridges, sold individually and in a bundle. Your choice of strains is Aurora, Fruit Loops, God's Gift, and Trainwreck.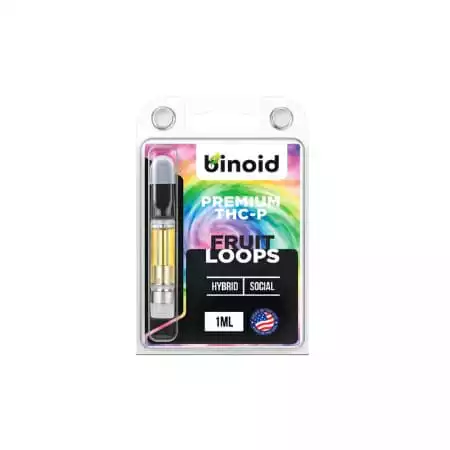 PROS (+)
Well priced
Excellent flavor
Carts don't clog
CONS (-)
Only carts available at the moment
Great for: Vapers

Not so good for: Gummy lovers. Sorry, they're not here yet, but just give it time.
Binoid THCV Review
For THCV products, they only have them in combination with Delta 8 products. This includes three flavors: Candyland, Purple Haze, and Sour Tangie.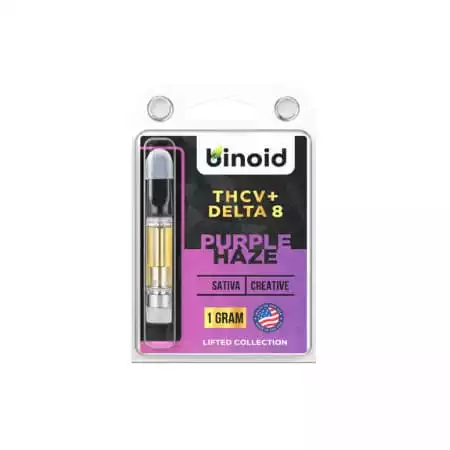 PROS (+)
Rare cannabinoid
Well rated by customers
Decently priced for THCV
Great for: Anyone seeking unique effects unlike other cannabinoids
Not so good for: Dabbers and edible lovers. We need to wait a little bit longer on this one.
Related Read: Best THCV Cartridge
Binoid CBD Review
Yup. Binoid also has a range of good old CBD.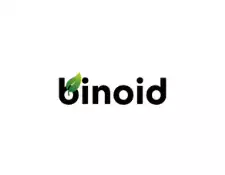 PROS (+)
Gummies are tasty and budget-friendly!
Higher dosage products available
CONS (-)
Often out of stock
Few full-spectrum CBD products
While the CBD range isn't as extensive as some of the other cannabinoids (CBD isn't their focus), some excellent products are still available.
This includes CBD oils available up to 3000 mg per bottle, which is great for those who need a greater dosage.
Binoid has also experimented with water-soluble CBD drops, great for higher CBD bioavailability and faster onset. The orange flavor seems to be most popular, as well as the sleep blend.
They also have pet oils for large, medium, and small-sized pets. Just follow the dosage descriptions on the back of your bottle, and you can help out your animal friend too.
There's also a broad range of gummies and capsules. In addition to topicals available from various other brands, these are sold out at the time of writing (appears to be a common problem for 3rd party brands on the Binoid site).
Great for: Those looking for products that permit for higher dosages
Not so good for: Full spectrum CBD
The Final Verdict
Binoid deserves a thumbs up at being one of the first companies to use alternative cannabinoids.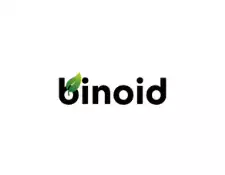 As many states are now trying to ban Delta 8 products, Binoid is keeping with the times and is offering products to help those looking for something new to try.
For those of you who like Delta 8 edibles and capsules, you're in for a treat. For those who want THC-O, check out the wax!
All in all, It is a reputable company with thorough product testing, stellar customer service, and a variety. I'd highly recommend you check out Binoid!